Monday, June 25, 2012
Nosy Noras
Today I was sitting in the staffroom eating lunch. I had just finished my ham toasted sandwiches and was opening my fun size Mars bar. A co-worker comes in and says "well, that isn't a healthy lunch, is it?". Seriously? It isn't like it was a king size and I was refusing to share, or it was all I was eating. I eat a balanced and healthy diet, which includes treats. So, I whipped out my reward (see below) and said "See this? I got this yesterday as my reward for losing 10 kilos in 6 months. I think I'm allowed a bit of chocolate!" She kinda backed off, but it still annoyed me. I don't comment on her lunch, on her lack of fresh fruit and veggies, so why comment on me having a chocolate bar? Gah!
Reward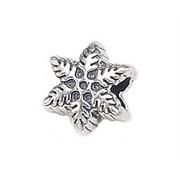 I got myself a little reward for hitting the 10kg lost mark, a new bead for my bracelet! This isn't the exact bead, but it is close enough. I can't get a good photo and the store doesn't have it on the website. I love snowflakes and I have been wanting one for my bracelet, but I needed a special occasion. I'll get another one once I hit my goal weight, which I have already picked out. Now I have a permanent reminder of my success right on my wrist!
Opinions
On Wednesday I usually do a boxing class. This Wednesday, I have parent teacher interviews and they won't finish until way after the classes are over. So, should I take a rest day OR should I hit the gym? I usually hate cardio equipment but I was thinking I could set myself a little challenge. A triathlon, of sorts. I could do 10K on the bike, 3K on the treadmill and then 5 minutes on the cross trainer, or something like that. Work up a sweat, and hopefully keep my mind occupied because I will be switching up, trying to go quickly so I can get it over and done with. Thoughts?