Yesterday, I blogged about my longest run so far, the 5 mile. It went pretty well. No serious pain or anything and no soreness afterwards. I'd be lying, though, if I said it was a super easy run. In fact, I've been thinking a lot lately about how I have shared the highs in my blogs, but not necessarily the lows. Truth be told, I have had a great experience with running so far (for the 3 months or so that I've been seriously engaged in training). But, like any sport, it is not without its aches and pains.
At mile 3.8 yesterday, it felt like my quad muscle suddenly woke up and said, "Hey, wait a second, lady!!! We've been moving for an hour. Did you know that? I don't want to do this anymore." At that point, I had a little conversation with myself, asking myself if this was actually PAIN that could lead to possible injury OR just tiredness that I could push through and stretch out after my run. This is such a difficult balance and I can't say that I've mastered it. I mean, what can any of us do but listen to our bodies the best we can? Sooner or later, there's going to be a time where we take a risk. And pray like hell that you make the right choice.
By definition (according to Merriam-Webster Dictionary), an "athlete" is a person who is trained or skilled in exercises, sports, or games requiring physical strength, agility, or stamina.
When do you choose stamina over caution? I don't know. I'm asking you. Haha. This is one of the biggest lessons I'm working on learning right now. With so many past injuries from my freak roller skating accident, I might have a greater fear of injury than most people in my situation. As a result, I might tend to baby my muscles and joints a bit more...fearing the pain that might result if something goes awry.
Been watching the Olympic Trials this weekend? Watching stuff like that just confuses the heck out of me in this area. LOL. I also watched a movie called "Spirit of the Marathon" last night (it's free to watch on hulu.com!) I'm not kidding...my knees started to hurt just WATCHING that! How on earth does anyone run 26.2 miles? I cannot wrap my brain around this at all!
And then...I did something that shook me to the core. I watched a video of the course I'll be running for my first half marathon on October 20th. Here's a link...
www.youtube.com/watch?v=
WM-SNHXxdoY&feature=youtub
e_gdata_player
You don't have to watch the whole thing...you just need to get about 3 minutes in before you start to feel the same emotions that I began to feel while watching it. No joke, guys...the longer it went on, the more fear built in my heart. I thought to myself, "Is this EVER going to end?! This is SOOOO far!"
I'll be honest. This is the first "wall" I've hit in my running. Not the wall that you hear about around Mile 8 of a half marathon...but a mental wall. When I hit this wall, the floodgates of fear and self-doubt were opened...
What am I thinking?
How can I do this?
There's no way I can last that long.
How can anyone make it?
What if I'm just kidding myself?
Am I freaking insane?
After this mental breakdown, I needed some help from a few close friends. Sent the APB out to my Team (A)cross the Miles of Spark runner buddies and they were able to give me some positive fuel for this battle. Some answers to the questions and negative thoughts.
You're going to unleash the beast, that's how. Picture me there cheering you on.
You got this...no worries. If you are at 5 miles now, I would bet my paycheck on you finishing with flying colors.
When what you do brings with it the taste of glory, nothing else will ever satisfy. You train to finish and endure because finishing means so much.
You have 4 months! Think about where you were on Valentine's Day...both mentally and physically. How does it compare to today?
Well, when you put it that way...on Valentine's Day, I was in a place of self-hatred. I had no confidence. I could not even run for 15 seconds. I couldn't even SHUFFLE for 15 seconds. I hadn't even THOUGHT about doing C25K. I wasn't eating right...I wasn't doing anything. I have come quite a ways in 16 weeks. So...what could I do with another 16 weeks? I suppose we'll see. Haha.
This morning, it should have been a rest day for me, but I got out there to support my girl, SNEVIL1 as she ran her first 5k race. MOM2IAN and I both started our 3.1 mile run at the same time that SNEVIL1's race was starting. We like to support each other this way when any of us has a race. It's fun and it's nice when you are the one running the race to know that there are friends out there running "with" you.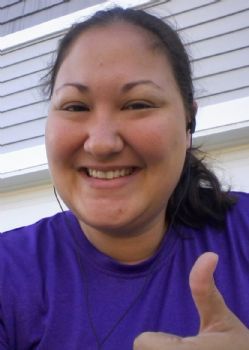 Standard Team (A)cross The Miles Thumbs Up Pic
I was not sore after my 5-mile run yesterday, but I was tired. I knew going into this that it was not going to be the easiest run. I even considered just walking it. But, honestly, I just wanted to do it and do it fast. Haha. So, I did the 3.1 miles. It was...tough.
If I wasn't feeling the 5 miles before that run...I certainly was feeling it afterwards. Basically, from the time I got home until now...I've been feeling 8 miles worth of running on my body.
This is a side of my running that I don't usually show you.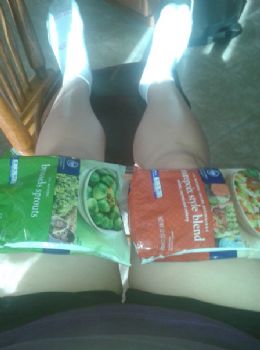 These bags of veggies moved from my thighs to my knees, to my shins to my ankles.
When I talked about hard work yesterday, I wasn't pulling your leg. At 2.1 miles today, my quad and knee in my left leg said, "THAT'S ENOUGH OF THIS!" And I walked the last mile. Because they so forcefully asked me to.
Know what else? I took an ice bath this afternoon, for the first time in my life. It was SHOCKING to the system, but oh maaaaan, my legs and arms felt SO much better afterwards.
For me, though, even with soreness and ice and ibuprofen and whatever else comes down the line, I still find the sport rewarding. Even in this exhausting weekend of running, I've learned invaluable lessons.
1. I discovered that late in my long run, I call upon my core and arm muscles to get me through to the end. And, guess what? They need some serious work. So...I will be adding arm work and core work to my rest days. So crucial!
2. Yet ANOTHER reinforcement of how important REST DAYS are! I don't think, from this point forward, I will ever run on a Sunday after a Saturday long run...ever again. I love my Team, but...it's obviously too much for my body to handle. And I simply can't risk injury.
3. I definitely need to work massage money into my budget. No joke, y'all. I went up to serve Communion in church today...and promptly had a lower back spasm. THAT was awkward.
4. Perhaps the most important lesson from this weekend: I can no longer afford to focus ONLY on my physical training. If I expect to endure through 13.1 miles, I need to begin my MENTAL training, like, YESTERDAY. And, as it turns out, I did begin yesterday. It starts with realizing that there will be aches, pains, negative thoughts...and it is my job in training to figure out how to respond to all of it. Whether I yield to it or push through it...is going to be the key for the next 4 months of training.
Wish me luck. No...no luck. Wish me wisdom. I'm gonna need it.