Sunday, June 24, 2012
It's not everyday I have an epiphany, but today I think I had one. I'm almost sure I did anyway. I have struggled with my weight for some time now and today I wondered if it was due to a lack of self-esteem. Did I not feel I was worthy of looking good and being fit? Maybe the answer is yes. Do we view looking good as a sign of vanity? Maybe this is why people in general do not accept compliments well. If we get a compliment we're quick to say, Aw, this old thing or I just threw on anything or some such drivel instead of just saying, 'Thank you.' Does this come from our parents and society teaching us humility. After all, we empathize more with humble people, not vain ones.
But today, I threw out the notion that wanting to be fit again is vain.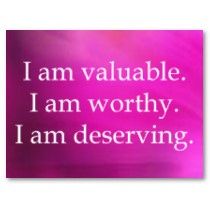 Getting healthy is not vain. Getting in shape is not vain. Looking great is not vain. It's smart. It's just the right thing to do to be at your best mentally and physically. We are not on our journeys to outdo others or look better than others, but to be the best we can be. It just makes sense and in the end, if I happen to look better than all my friends, well who am I to question fate (lol - oh, the vanity!)