Sunday, June 24, 2012
Okay, i put the trike together (for the most part) the day it came, June 20th. I couldn't get the brakes right, so my sister came the 23rd and fixed my brakes. Today I went out about 7:30 and started to ride, but some dingbat

forgot to tighten the handle bars, and they went one way while the front wheel went the other. So, back upstairs, get the hex keys, go back out, tighten handlebars.
Then I went out the drive, a few yards down to the corner and back. Then a lap around the building. It was great, I saw a mother and baby rabbit, wrens, and it was just before 8 so the sun was not up very far. It was kind of scary, I haven't ridden a moving bicycle since my single digit years, but if I ride a little every day I'll get used to it.
I will, however, be getting a new seat for the trike. My behind is sending me some really hostile messages.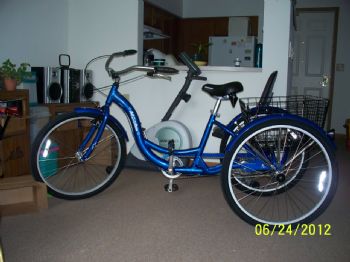 (Isn't it a beauty?)
Maybe I'll get a hat cam and give all my Sparkfriends a tour of Ashtabula!