I learned long ago that I "HAVE" to track food daily. Sometimes, I don't have access to the nutrition and fitness tracker at Sparkpeople due to being out of the house, without power or internet, or who knows where (including unexpected time in a hospital and most recently back home for a funeral in a rural area.)
Long ago I learned there was a simple solution. I buy those small memo books (about 2-1/2 x 4" in size.) Our local drug store (national chain) sells them at Back to School time 3/$1 and I stock up! These fit easily into a shirt pocket or purse.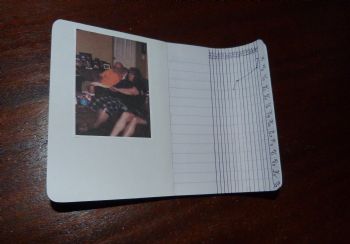 Inside the front cover I paste a print out of one of my BEFORE picture. That's just a reminder of what I DON'T want to be.
The next page I use to keep track of my current weight progress in graph form. I make each line a pound and write the weeks at the top and graph my progress. The book usually lasts about 8 -10 weeks.
The next 4 pages I use for recording the miles on my bike I ride each day.
The next 4 pages are for my walking miles.
The rest of the book (except for about 5 pages at the back) are used to scribble down what I eat . Many of the calories I know by heart now. If not I guess and put parentheses around it and check it later. I make simple tally marks for water at the top.
The last 5 pages or so of the book are for notes. Things to try, websites people mention, book titles, etc.
I've gone through a LOT of these little books. They have been the difference for me in staying on the path. I know I have to keep writing things down and when I have a WEAK moment I can whip out that little book WHEREVER I am and see my before picture, my current progress on the graph and be motivated to stay the course.
It's an inexpensive tool that has helped me. I'll continue to share the things that have helped me make progress on this journey!
Press On!