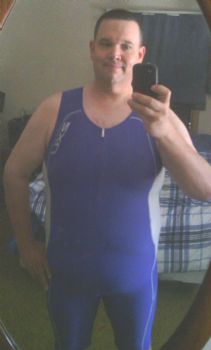 ** MY NEW TRI-SUIT
I went to a sponsored open water swim clinic where an experienced triathlete takes you on the swim course and passes on some hard earned lessons. What a privilege it was to be able to get any sort of athletic fellowship. Where I am at is kind of remote so there are not any group runs that I am aware of of stuff like this and if there is, my schedule is so contrary that it makes taking any sort of classes almost impossible.
If a group met once a week for 3 months, I would be able to make about 40% of the classes but yet would be paying for all of them and would not be progressing with the group. Not a good scenario so everything I do is solo.
What a cool thing to be able to swap stories, talk to real people, see their gear and gain some knowledge.
The course didn't have the buoys out yet but we swam the distance by following the markers around the swimming area. I didn't time myself but I was second out of the water (among beginners that is) and felt great. The place where I do my open water swimming is pretty hostile compared to this area. Where I go, its usually choppy, cold and lots of weeds. This place was IDEAL. about as good as a pool without the chlorine and the temp was perfect.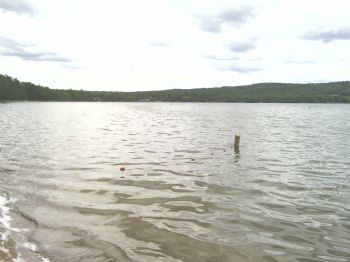 ** THE MARKERS ARE KINDA HARD TO SEE... Best I can do with a cell phone...
The reality of my first tri has always been a little distant since I am pretty removed from everything but this brought it home and boy am I excited.
I also toured the bike course... good thing I did.
I was a little taken as to how steep the hill climbs are going to be. In short, about 8 miles of the 18 mile course will be pretty hard core. I'm ready and I know I will do good but boy am I not looking forward to the first 1/2 mile of the 5K. Its going to feel like I'm running through waist high jello.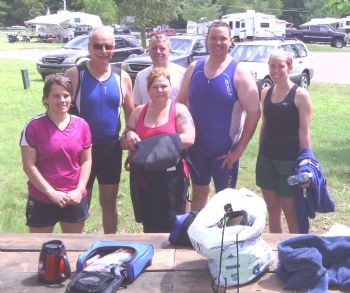 **OUR GROUP**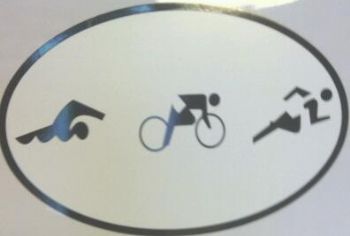 ** CANT WAIT TO PUT THIS ON MY TRUCK.. along with my 26.2 and 13.1 stickers :)
Over 100 athletes will be participating in this... its going to be exciting.



I can really feel the tri-fever coming on.... symptoms are similar to the woo hoo flu..
-Also, after I wrote my last blog, I went out for a late night run.. 11:30PM. Didn't have any particular distance in mind, just went. Wound up doing 10K about 3 Min short of a PR. Not bad for having not done anything for 2.5 weeks. I will chalk this up to me simply needing recovery time. rest is not a four letter word albeit the situation that brought it about was not good but I will make lemonade out of lemons.
Race report coming out Next Sunday or Monday.... Cant wait to get my Tshirt and medal :)