Saturday, June 23, 2012
Being a member of SparkPeople has changed a lot about how I regard physical wellness and lifestyle. And when I think about how the information on the site is vetted by acknowledged experts in their fields of wellness... that is quite impressive. So, I have paid lots of money in the past to take in this kind of information. What do I do to say "thanks" for what SparkPeople has done for me?
Today I took the first step. I was part of a SparkRally. No members of SparkPeople, as least none who identified themselves appeared. I smiled at about 15 passers-by. I was prepared to offer an exercise class (2), but there were no people to take advantage of the opportunity. I had posters printed, set-up for video arranged. Did I waste this time, expense, and effort?
Absolutely not! What it took me to decide what to include in the presentation, going through the preparations, and recognizing that people don't just start talking about these issues to "strangers" has given me another perspective on just how challenging lifestyle is, and why it takes such a strong effort to push for taking care of one's self.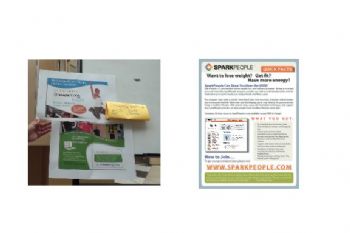 Every step, every activity that makes you value, cherish, and sustain your lifestyle change is worth it. And because it is something that I recognize as special, I choose this activity as a priority. You're reading this: so SparkPeople must be a priority to you, too!

--

--