This journey is an important one. It's going well, and I'm having a blast finding new reserves of energy and motivation that I'd thought I'd lost. It's proved to me what a good diet and exercise can actually do for a body.
It's funny, with my background, that I don't realize that until now. I'm 35, and every other experience I've had with eating and exercise (read: under-eating and over-exercising) has been miserable and a task instead of a good, healthy lifestyle change. But now that I'm holding myself accountable for the health aspect of this journey - as opposed to losing weight no matter what the cost - I'm appreciating how it makes my body and mind feel.
As I start the challenges I'm a part of, I want to take a look at the things that I'm not really willing to give up, but that I can substitute for other, (slightly)better options.

-- Java Monster --
Holy crap, these are incredible and I could drink way too many of them in a day. They're delicious and I have to remind myself they're energy drinks. Do I get them daily? No. Not even close. But when I want one, I want one.
The Compromise: Vanilla Light, Lo Ball, and other "diet" varieties. This is something that I can do. Instead of being over 200 calories in a can, the light varieties of the Java Monsters have about 100, which I can easily fit into my diet.
More on caffeine in a bit, but the Java Monsters do have less caffeine per serving than a cup of coffee. This is good! It also has vitamins in it -- here is the nutritional information.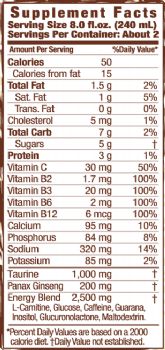 -- Avocado --
( ._.)
Yeah, okay, I know. I called it my kryptonite, and it's true to a certain extent. They have been one of my favorite foods since I was a young girl. It brings back amazing memories of picking fresh avocados off trees in Southern California, and enjoying them with my grandmothers. In fact, my parents used to pack a suitcase (albeit a tiny one) with fresh avocados when we'd come back. We'd give them to friends, family, we'd keep a lot of them, and I recognize that this is where my love of the little things started.
It's also why I can devour them.
It's also probably one of the reasons why I was a fat child.
The Compromise: Eat them! But remember, Self, that moderation is key. Having one for breakfast, or even saving half for lunch or dinner, is not bad. A quote from avocado.org:
"Avocados provide nearly 20 essential nutrients, including fiber, potassium, Vitamin E, B-vitamins and folic acid. They also act as a "nutrient booster" by enabling the body to absorb more fat-soluble nutrients, such as alpha and beta-carotene and lutein, in foods that are eaten with the fruit."
Avocados are good. Very good. But as with all good things, moderation is key. And to moderate, I will not have more than two in my house at once.
And here is the nutritional information for 1/5 of an avocado. ONE FIFTH. (haha, man, that cracks me up. One fifth of an avocado. Yeah. RIGHT.)

-- Coffee and Tea --
I recognize that I need caffeine. I know it's not a great habit, but it's something that I've come to recognize. Stemming from years of soda drinking, and coffee drinking, and taking migraine medication with caffeine in it, I do have a dependence on caffeine. Not for energy, but I notice that my head hurts very badly if I don't have caffeine for a day or two (withdrawal symptoms) - and it can trigger migraines.
The Compromise: I'm not ready yet to fight the battle of caffeine addiction. I realize it's an addiction but as far as dependencies go, I'm glad it's something like that, and it's not nicotine (anymore!) or something far worse, like alcoholism. Therefore, I allow myself tea. I don't have a coffee maker (or I'd be wired 24/7) so it takes time to make myself tea. Iced or not, I still have to brew it.
I admit to my laziness here. I don't always want to brew tea. I'm a HUGE fan of ice water (which I count myself lucky for.. so many people don't enjoy the taste of water, and it's very seriously one of my favorite beverages) so I drink more of that than anything else. I keep myself to one dose of Excedrin a day.
I have cut down a lot on caffeine lately. I know this. I'm just not prepared yet for letting go of it completely, and recognizing that is an important step. Knowing my limits, and what I can do at any given time.
-- Cocktails --
Alcohol is not a big part of my life. I go for months and months at a time without drinking. When I do, I don't drink a lot. (I had college for that, thanks!) What I recognize is that there are hidden calories in drinks - be it beer (and I love micro brews and good stout beer!) or liquor (I don't even want to think about the calories in Jagermeister).
The Compromise: I don't really need a compromise this, because it's such a rare thing. When I do partake, it's in a setting that is more carefree (at parties or whatnot) so I don't always have the nutritional information available. So, I limit my drinks, and I limit my mixers. If there's juice to mix, I mix in water, too. If there's ice, I use PLENTY of it. This isn't so much a compromise, but a reminder to me that drinks, cocktails or not, also have calories.

Thinking these things through helps me. Writing them down helps me more. I feel like I'm on the very right track to this lifestyle change that I want - I feel happier and healthier, and in turn that makes me even happier. I'm used to recognizing patterns in me, in life, in my moods and emotions, and I like this circle. It's not vicious like the others have been! It's slow, and patient. And heading someplace permanent.
xo