Ever feel like you are making a herculean effort and receiving microscopic results? Like the mountain you're trudging up looks like a speck of sand to everyone around you? But that speck of sand feels like it's going to eat you alive??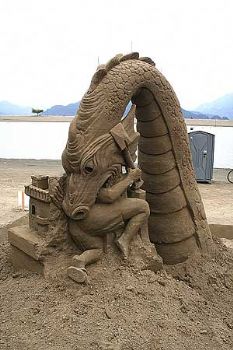 I'm over tired, under appreciated, frustrated, annoyed, sad, needy, and really wishing some people would acknowledge my effort. Then in the next second I wonder if I just half a$$ed it, would it be easier to handle? Or would I still feel like a failure b/c I know I wasn't giving my all?
I have some derby drama going on and I don't even know if it's all in my head or what. I feel like I give all that I can to this league and team and I'm constantly trying to do things to make me better. I push myself past breaking at every practice while others do the bare minimum. I ask for jobs that I see a need for and get shot down constantly. But yet when it comes down to bout day, I'm still just one of the "new girls". I'm on a line this time but I am in the position where I will substituted out on a regular basis with girls much less skilled than I am.
I keep thinking maybe I care too much, try too hard, or I'm just not as good as I think I am. Don't get me wrong...I know I'm not an expert but I really give it my all and try to learn everything I can.
If I'm not taking care of my family or at work, I'm doing volunteering with derby. Or thinking about derby. Or working out to be better at derby. Or researching things to learn more about derby. I spend all my extra money on dues, jerseys, equipment, and traveling to away games. I've done this since day one and it's been almost a year now. It's my passion and I really LOVE it most days.
Then I wonder if it's worth it. I miss my family on practice days. I'm sore and exhausted on a constant basis. I always feel like I should be somewhere else no matter what I'm doing.
Is the effort ever going to be good enough? Or will people with more seniority or natural ability that don't have to give the effort always get the prize while I'm left crying on the way home (after pushing so hard at practice that I want to vomit)?
I'm not giving up because I'm not a quitter. But I can't say it doesn't hurt somewhere deep inside. Saw a quote that was perfect for my feelings today: Tough times don't last; Tough people do. I'll keep calm and carry on. It's has to get better, right??