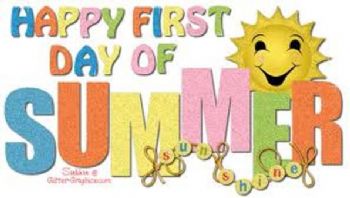 Summer Memories
Happy First Day of Summer! It sure is a hot one here! Thank goodness for air conditioning! But when I was growing up, there was no air conditioning. All of this got me thinking about things that made summer so grand when I was growing up. What are some of your special summer memories when you were growing up?
• That feeling of exhilaration on the last day of school
• Fudgesicles
• Sleeping Under the Stars
• Barbeques
• Neighborhood Baseball Games
• Riding bikes every afternoon to the local swimming hole
• Camping
• Toasting Marshmallows
• Sparklers
• Fireworks
• Spending 2 weeks with my grandmother on the lake
• Staying up late
• Catching Fireflies
• BLT Sandwiches with Homegrown Tomatoes
• Fishing
• Working on the farm
• Drinking Kool-Aid
• Picking sweet corn right out in the field
• Drive-In Movies
• Playing Kick the Can after dark
• Going on a picnic to the amusement park
• The Roller Skating Rink
• Kickball
• Boondoggle
• Stargazing and watching for satellites on the hood of my dad's truck
• Hopscotch
• Jump Roping
• Jacks
• Steel skates with a skate key
• Horseback Riding
• Firemen's Carnivals
Finally, here's the song that inspired this blog. . . How many of you remember this one? Turn on your speakers and have fun!
www.youtube.com/watch?v=
lB8-gj8KRVM
Thanks for dropping by, and make it a memorable summer!