Thursday, June 21, 2012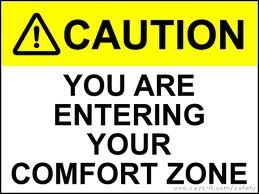 Yesterday's blog spiraled into a lot of thinking for me and digging deeper into where I am at and where I want to be. I am sure that many of us can say that we are living in our comfort zone. There in itself lies a problem. If we want to advance and become more of who we really are and what is waiting inside, we have to step out of that comfort zone. So much is waiting for us if we only take that leap outside of our comfort zone.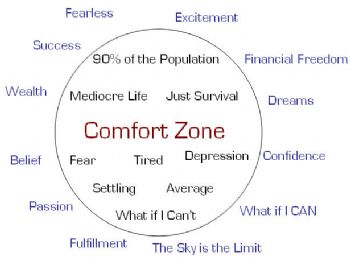 Look at the picture above. What do you see? What first came to my attention is that many of the things that are inside of the comfort zone, co-exist with with the life of just existing. Coincidental? I think not! When we step out of that comfort zone and begin doing things that we are afraid to do, think we can't do or just haven't tried to do, what happens? We begin living!! YES! That's what I am talking about! Step out of that comfort zone, stop existing and start living the life that you were meant to live! Just reading the things that are on the outside of the comfort zone gets me excited and craving more. I want more out of life as you should too! Are all of these things going to just happen all at once and your life be hunky dory all of the sudden...of course not, but as you begin to step out of that comfort zone and challenge yourself to live the life that you deserve, you are going to start experiencing things you never dreamed possible. So, what do you think? Are you going to stay where you are at? Not advancing, not growing and not living to the best of your ability? It's time! Let's all take that leap into what is waiting for us on the other side! BEWARE!!! Greatness is ahead!!!