Wednesday, June 20, 2012
Well yesterday had it's high and low points. I got home from work and kept thinking about what I could eat before dinner because I just HAD to eat something. So, I had two hot dogs (with buns), which put me over my calories by about 800. Not good. Although I did learn a couple of things: while I was eating it I thought why am I doing this? It's not even good and I'm not hungry. I also didn't go somewhere and buy ice cream or something and have a total meltdown, which was nice. Normally I think, well, if I'm going to go over my calories, I'm really going to go over my calories. Not the best mindset...
I think the reason I felt that way was because of a couple of things: first, I'm really bored when I get home from work. It's like that time from 4-6 just drags by and I need to fill it with something. I'm not going to the bar as much so it's been hard. It would be the best time for me to get in some fitness minutes--this I know. Also, I ate badly in the morning. I had a shake for breakfast which is not a lot of calories and I know if I don't have sufficient calories during the day I'll pig out when I get home at night. I should have had a lot of fruit with the shake. I did have a rather high calorie lunch but I wolfed it down inbetween meetings so I don't think I even tasted it. Something to think about for next time.
On a good note, I did make my first acorn squash, well really any squash, as well last night: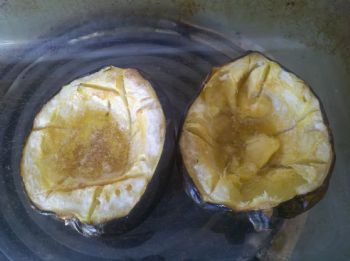 I had half of it and it was good. I might have cooked it a touch more. I put butter and maple syrup on it. I'm really enjoying new things. I just need to get over the eating before dinner problem and I would have made some good choices yesterday. *Sigh*
I was really hoping to at least have one day so far this week were I stayed in my calorie range especially because weekends are notoriously difficult for me. Today at work we have a pot luck. I'm not planning on going crazy but I also have a dinner with a friend tonight. I'm going to look up their menu ahead of time and see what I could get that's low cal to plan ahead. Maybe some fish.....