Two steps back, three forward
Wednesday, June 20, 2012
I creeped back two pounds. Drat.
Then I saw pictures of myself ~EEEK! A lot heavier than I thought I looked.
This is over, I'm not going to panic, I'm going to persevere and get there this last time.
So I pulled out my racing bike (finally! Did I say I was going to "make it happen" on Monday? And today is Wednesday?!!). Anyway, pulled out the bike. The tires were flat. But that wasn't going to stop me. Pulled out the hubby's compressor and began filling, when pop, the tab blew out. Drat.
Okay, forget the racing bike. Way in the back of the garage was something that many call a classic, except ours didn't look anywhere near as nice as this: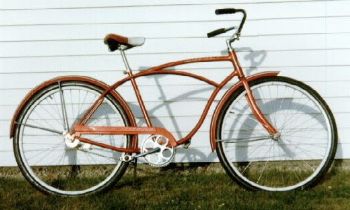 I don't think the chain had seen oil in 50 years. The chrome fenders are dented and a little sideways. And who needs those fancy smancy gears? I filled the tires (more carefully this time), and oiled the rusty chain. The seat was a little torn and the springs creeked when I tried it out. It was dirty and a "beaut" and my new best friend. I'll take care of the dust and cobwebs later, I had to get moving, and I did, back and forth five times on our quarter mile, hilly lane.
Well I biked for a half an hour ... but old is good, especially if it peels off those creeping two pounds!