Tuesday, June 19, 2012
Last week's pizza was very basic. maybe I wasn't feeling particularly creative, but I soldiered on through and honored my sacred vow to make a pizza every week!
I just baked a couple of whole grain naan that I'd gotten at the Indian market and topped it with marinara sauce, spinach, onions, peppers, mushrooms, basil, and Daiya mozzarella. Classic and really really good! The only problem was it was too small, but it's for the best...Portion control is good when it comes to me and pizza. I could go full-on glutton when it comes to pizza!
Here it is, not a lot of bells and whistles, but still a pretty little pie!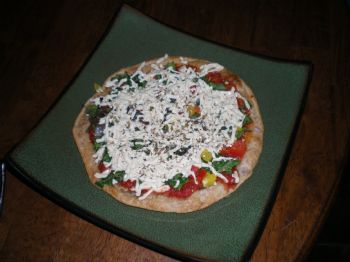 And here's me with a huge bowl of chard I harvested from our garden. No trick photography here, just a big pile of mutant chard leaves---they just keep on coming! And I'm grateful! Chard pizza? Hmmmmm.....