Finding a healthy balance in life seems to be a daily experiment that varies and fluxes with the changing seasons, priorities, and responsibilities. I've spent a great deal of time over the last several years trying to find my "balance" that all of the sudden seems to fit for me forever. What I've come to learn is that much like the rest of things in life, health priorities change with time.
In the past year and a half since I met my goal weight, I have experimented with several phases and definitions of healthy-living, trying them on for size in my lifestyle. Each experiment has brought me more clarity toward finding that ephemeral "balance" that I've longed for forever. Though I wouldn't say that I'm "balanced forever" now, I can honestly say that I'm living in a way now that I feel comfortable, healthy, and overall happy sticking with for the foreseeable future.
So, what does my healthy balance look like? First, let me explain what wasn't balanced healthy living for me.
*Post weight-loss*
After I met my goal weight in November of 2010, I was scared about gaining it back, and unsure how to transition into maintaining from the habits that had helped me lose the weight. So, I continued on for nearly another six months with many of the same habits I had formed during my weight-loss journey. For me, those habits that I really wanted to shed (but was afraid to stop) were:
• Tracking calories and food daily
• Tracking exercise minutes
• Tracking calories burned
• Exercising a minimum of five times per week
• Weighing regularly
• Measuring my body regularly
• Counting calories at every meal
Although these habits ARE healthy ones to explore when you're beginning to transition from nearly all unhealthy habits, they still had me feeling slightly obsessive and neurotic, with far too much energy and thought put into numbers and calories and minutes exercised. I wanted to live intuitively!
Here is how I looked post-goal-met: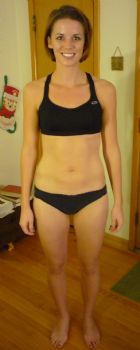 *Intuitive eating*
A year ago, my husband and I were in the process of buying our first home, and transitioning in life. The stress of trying to micro-manage my food and exercise was just too much for me to handle at that point, so I decided to stop tracking everything entirely, and give my "intuition" a chance to lead. While I truly believe that everyone can reunite with their intuitive listening side of their bodies with food and health, it can be a rocky transition for those (like me) who have never paid much attention before. I found myself in these habits I knew I couldn't sustain and stay healthy:
• Excessive "bites, licks, and tastes" here and there
• Too much snacking
• Excusing unhealthy foods (pizza, baked goods, dining out, etc) too often
• Using the "everything in moderation" mindset past moderately
• Getting bored in my exercise routine
• Not challenging myself or setting goals
Here is how I looked around that time (June 2011):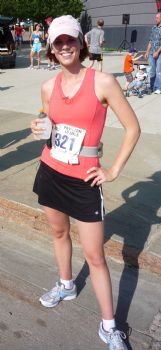 *Clean eating*
Realizing that going laissez-faire wasn't working for me, I hopped into a new routine that had me following a strict eating and exercise plan to jump-start my motivation. I knew about "clean eating" as a rule, but as a diet, it typically entails eating five to six small meals per day, and completely cutting out refined sugars, flours, and processed foods. It means lots of food planning and batch cooking, and a strict attention to the intervals of time between meals in order to keep the metabolism high throughout the day (in theory). The plan I was following included a ton of animal protein, lean meats, egg whites, and low-glycemic carbohydrates. Additionally, I worked through an intense strength training program that meant six days at the gym, for workouts lasting between 45 and 120 minutes long. I tried to follow specific rules regarding types of meals at certain times, and supplement with protein shakes and BCAA pills. Though I wasn't counting calories, I was constantly obsessed with what food, what time, how much, and my exercise. I knew these things were not maintainable for me:
• Exercising six days a week at the gym
• Egg whites every morning
• 10-16 oz. of animal meat per day
• High intensity interval training paired with strength training daily
• Waking up at 4:45 a.m. to make breakfast, drive to the gym, feel rushed, shower daily in the locker room, and be late for work; also: packing my "work bag" every night before bed so I could get ready at the gym
• Weighing myself often and constantly nit-picking my appearance for the slightest hint of change in my physique
Here is how I looked during this time (my most "ripped"):
*Vegetarian / plant-based eating*
After I crashed and burned from three months of attempting the healthy-lifestyle routine above, I quit the gym. I was so exhausted and burnt out from the amount of time I felt I "had" to spend there, and was so sick of egg whites and chicken breasts that I pretty much loafed around for a couple months. I went on a meat-hiatus (simply because I was so sick of it, and felt heavy and lethargic and ethically bothered by the quantity I had been eating), and gradually found myself not wanting it or cooking it again. It felt good! I was more at peace in my mind and body without meat as a part of my diet, and decided to "go vegetarian" near the start of 2012. Though I was feeling better with my diet, I still felt some lethargy from not working out as often, and not wanting to either. So, I dove back in to exploring my yoga practice, which had suffered dramatically with so much gym time, and found myself enjoying a daily practice of 10 minutes, with weekend Bikram yoga classes.
Since this transition, I feel like I'm truly coming into my healthy balance. A great deal of my life still feels chaotic at times, but I'm finding as I make better, more peaceful and less obsessive choices with my food and fitness, the chaos is easier to tame and manage. Here is what my healthy balance looks like today:
• I eat 90% plant-based (vegan), with occasional dairy or eggs (ice cream is my biggest weakness, and cheese is sometimes a "necessity" in social dining out, like having pizza with my family)
• I exercise 3-4 times per week by running, yoga classes, walking, or home DVDs
• I walk daily between 15-30 minutes, usually on work breaks, sometimes with Paul
• I drink tons of water (upwards of 100-115 ounces per day), and always start my days with 24 oz. of water before breakfast or other beverages
• I get 7-8 hours of sleep every night, go to bed by 10 pm, and up between 5-6 am
• I cook all whole foods in my home, and eat out a few times per week
• I have a green smoothie nearly every weekday for breakfast and a slice of toast with nut-butter
• I don't snack nearly as often as I used to
• I take vitamins daily (multi, flax-oil, folic acid, and calcium)
• I don't drink pop. Ever.
• I cut out my coffee habit, and no longer use caffeine in the mornings to wake me up; I will have green tea or coffee occasionally for a treat
• I eat a ton of fresh fruits, vegetables, and whole foods daily
• I buy and eat almost entirely organic
• I try to eat mindfully without distraction, but still sometimes give in to watching TV during dinner ;)
• I enjoy treats daily, but no longer use white flour or sugar in my kitchen
• I have a ton of energy (usually) and stay busy daily
• I am strong and flexible: I can run long distances (although I'm not fast), I can do 50 push-ups in a row, and I can hold arm and toe-balance poses in my yoga practice, do forward bends, and move in ways I never used to be able
• I do not have a six-pack or defined abs
• My thighs jiggle, I have cellulite and stretch marks on my legs and butt, and my tummy still looks soft and mooshy when I sit down
* I eat lots of dark leafy greens DAILY
* I wear a size 4/6 pants (sometimes an 8 in certain brands or styles) and small/medium tops
* I weigh around 148 pounds (I am 5'10")
• I am not perfect, but I am healthy and happy
Here is what my "healthy" looks like today: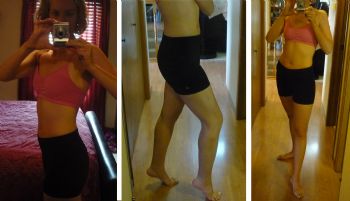 I think it's imperative for us as women to know what we—as women—do actually look like when we lead normal, busy, healthy lives. I will absolutely NEVER look like one of the women you see in magazines. I am not willing to live to the extreme of my health as they have to in order to look that way. Each of us needs to work toward finding what makes us happy, healthy, and feeling confident in our own skin. My healthy balance may look a lot different than yours, and that's totally okay. There isn't "one right way" to live healthy. Be willing to experiment, explore, and really question what works and what doesn't for you and your life.
What does your healthy balance look like?
*NOTE: All of these pictures are POST my weight-loss goal met (all in maintenance). In 2010 I lost 40 pounds (see my pictures gallery for close to true "before" pics), and I have maintained a weight of 143-153 since Nov. 2010. Currently, I've settled around 148-150 pretty consistently.