I am celebrating one year of running. I started last year with 5k your way walk/jog program and it started an interest in something I used to say I hated.
Last summer, I signed up for a 5k to raise money for a charity. I had never done a race before and was nervous. I imagined passing out, being out of breath, not being able to finish. The race was so exciting. I immediately decided I loved it. I was addicted. To the energy, the excitement, the fun of seeing someone run past you in a cow costume. This race is unique because it takes place at a water park. The last part of the race is in the "river" which is a waist-high slow moving current (but still a challenge to get through!).
Last year, I told a friend (EVILKISSES5757) about the race and she decided to do it too. It was also her first race. She also fell in love with the feeling and wanted to do another. Since then, we have run several more races--some 5ks, a half marathon and a marathon together.
This year, I ran the race with my dad. He has lost 70 pounds and is working on getting to a healthy BMI. He mainly does elliptical but enjoys running with me. Our first race was in April. This year, my friend (EVILKISSES5757) did the race with her husband, nephew, and her 4 year old daughter did the kids race. (My daughter was a little sick and I didn't want to bring her this time but probably next year!)
This is an annual tradition. I look forward to doing it again next year! The race raises money for kids in Mexico and California. I hope this race continues to be held. It's such a fun race!
My dad and I celebrating after the race with a healthy (-ish) breakfast.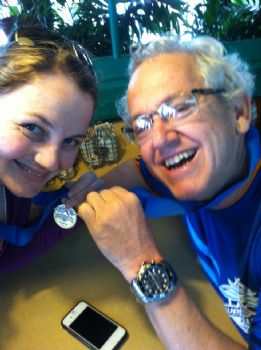 My medal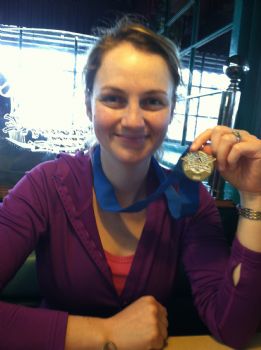 Since it was a "Wet N Wild" race I didn't bring my phone or a camera to take pictures during the race so no pictures of the river or people in tutus or other race costumes. I'll have to wait until pictures are posted on the website. Good thing we didn't bring our phones because we got soaked! Fortunately, we brought a change of clothes.
A year ago I didn't think I could do a 5k. A year ago, I was totally new to racing and running was new to me as well. I didn't know how far I could run. I didn't know if I could handle it due to past injuries including a back injury the first time I attempted the 5k your way program. A year ago I was still new to Spark People but I was starting to live my life like the adventure that it can be. A year ago, I was starting to see how much I could enjoy fitness and eating (and cooking!) healthier.
After doing these races and seeing that I can accomplish more than my mind told me I could, I have more confidence in myself and know that I can acheive more than I thought possible.
What dream/goal/desire are you going to aim for because YOU ARE CAPABLE ???