So I've decided that my weight loss has slowed--because I slowed. I stopped tracking. I was working out, but I fudged a little on the diet. Oh it was okay to flub here... I'd be good the next day... until I wasn't. I still worked out like crazy so in my head I was okay. Then you look at the numbers. I was up a little on the scale. Frustrated. Annoyed. Why did I not burn a lot of calories this day? What did I do wrong?
So this week I made a point to start tracking again. To write down every bite--including splurges--on my tracker. So far, so good. I also wear a BodyMedia Fit Core Armband. It guestimates my calorie burn, steps, sleep, etc... I'm going to start posting pics of the weeks to give myself a better idea of what is going wrong. I consistently have been burning more than I eat, but the scale says otherwise. I'm going to trust Spark and their calorie counter and assume I do need to eat 1700 calories if I am going to burn 600 calories on most days... but grr... I am still annoyed at myself. Now that I'm single again, I've got plenty of time to obsess over my food (and not have "date nights" out at unhealthy restaurants) and have plenty of time to exercise. Oh and last week I found out legumes REEEEAALLY annoy my IBS -- so now I have another food to cross off my list. It was almost as bad as dairy -- which I've been cheating on... oh cheese--why do you have to taste so good!? So now, barely any dairy... no legumes... no kidney stone foods... no IBS irritating foods... reduced gluten... I'm left with protein, fruits, and veggies.
Lately I've been obsessed with frozen grapes. At 64 calories a cup -- they're healthy, and when frozen, you eat them a lot more slowly. If you have any sourish grapes--freezing makes them more palatable--and when I'm feeling like a frozen treat--I'm grabbing these instead of an ice cream bar. Plus they were $1.78 for 2# at Aldi's this week. I bought 5 boxes of them and threw 3 in the freezer and 2 in the fridge. Yum.
So here's my breakdown for my armband so far this week: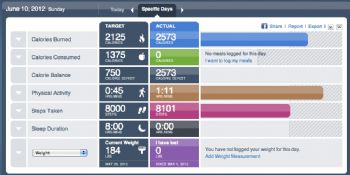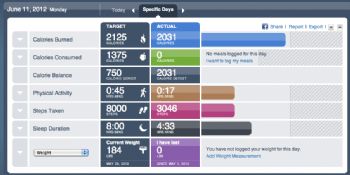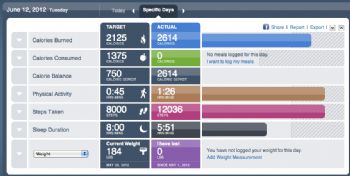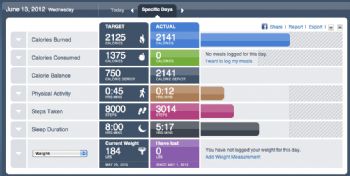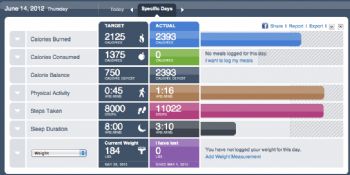 According to the days I tracked I had 1655 on 6/11, 1624 on 6/12, 2516 (mexican--oops) on 6/13, and 1703 on 6/14. So overall I will hopefully see a loss on the scale on Monday. *fingers crossed*
I have a work Pizza Meeting (no joke, that's what it's called) and then a pizza party for one of my friend's kids after work... so right now I'm working from home, I'll cook lunch right before I need to leave to make it to the meeting with a healthy 400 calorie option, and with my 200 calorie breakfast, I should be able to have pizza tonight, no problem. *seriously -- why are people throwing pizza at me?*
Let's see if this whole tracking thing will kick my weightloss back in gear.