Thursday, June 14, 2012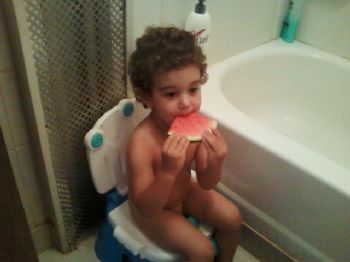 WELL ELIAS HAS FIGURED OUT WHAT TO DO WITH THE POTTY..MOM SAID HE WENT AND SAT ON THE POTTY ALONG WITH HIS WATERMELON.!! SILLY LITTLE BOY! HE THINKS HE CAN'T HURT HIMSELF AND NOW IS WALKING ACROSS THE COFFEE TABLE THAT IS GLASS. ! YOUCH...HIS POTTY ALONG CAN TURN INTO A STEP STOOL TO WHICH I THOUGHT WOULD BE NICE WHEN HE HAS TO BRUSH HIS TEETH,BUT HE HAS OTHER IDEAS FOR IT...
WELL I HOPE EVERYONE HAD A GREAT DAY AND DRANK THEIR WATER !!