Thursday, June 14, 2012
I'm not only back on track with my training but also with Flying with FlyLady. I've started to track my daily chores; 15 minutes decluttering, Swish & Swipe, Mount Washmore and making bed. And: putting on my lace-up shoes!
I love FlyLady-system, I'm not organized person and our house can become so messy I feel I can't cope with all. With FlyLady I get "mental tools" how to cope with all, most importantly doing everything bit by bit, babysteps, not going on / off like hurricane, doing all the house at once and then feeling too overwhelmed to do anything for long time.
Today I took photo of my lace-up shoes, they're red, of course. I love red colour!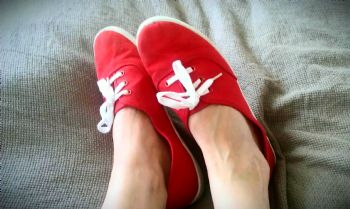 If you don't know FlyLady, visit her page! I'm not paid to advertise it or anything, I just want to share this thing, as it has helped me a lot. Even my husband says FlyLady has done miracles to me, he says our house is like different house when I'm Flying and when I'm not. :-)
www.flylady.net/