Hey Guys!
Thought I would change it up a bit tonight.
I am the food allergy queen and so eating is much like a science experiment and no, not always fun. But sometimes it is!
I wish I had taken a picture of my Monster Green Muffin this morning, it was awesome but totally looked like I cooked up Oscar the Grouch for breakfast since it was his EXACT color! LOL...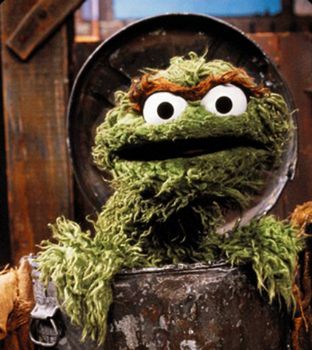 Recipe: 3 Tbs Liquid egg whites, 1/4 cup flax milk, 1 cup fresh spinach, 1/2 serving Aria protein powder, Packet Sweet Leaf Stevia, 1 tsp vanilla, dash of cinnamon. Throw that in the bullet and whirl it up. Pour into a 2 cup microwave safe bowl (I use a pyrex measuring cup), stir in 1/3 cup Rolled Oats, 1 Tbs Unsweetened carob chips and microwave for 3-4 minutes. I topped it with some sugar free syrup...Yum!!
This isn't today's muffin, this is my Carob Muffin, but this is how they look out of the microwave:
Recipe for this one is here:
recipes.sparkpeople.com/
recipe-detail.asp?recipe=2
100032
My current obsession is oven roasting everything!
I roast cauliflower, broccoli slaw, cole slaw mix, kale, butternut squash, fresh beets, and my current addiction is shredded carrots!
Here's a before and after shot: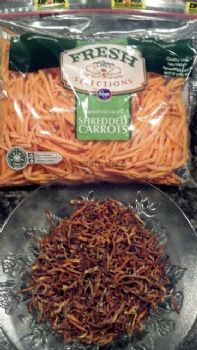 Recipe: Spray cookie sheet lightly with pan spray, dump a couple bags of these shredded carrots (sometimes called matchstick carrots) on the pan, spray lightly with spray so the seasoning sticks nicely. Sprinkle generously with onion powder and a bit of garlic powder. Bake in a 300 oven until they are crispy critters, but not burned. You have to stir them frequently as the outer shreds darken first. I let them cool and continue to dry out on the cookie sheet.
I kid you not, they taste SO much like Durkee Fried Onions! I top salads with them, eat them as a snack, even topped tonight's pizza with them after I took it out of the oven!

On to tonight's dinner.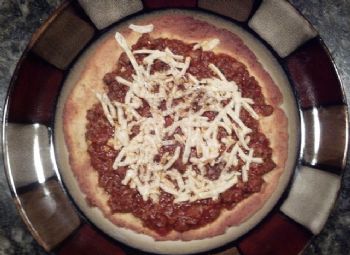 My 170 calorie "Healthified Pizza'!
recipes.sparkpeople.com/
recipe-detail.asp?recipe=2
141910
Non dairy cheese, vegetarian 'meat', marinara sauce that contains 0 sugar and low carb tortilla for the crust. Super yummy!!
So here is the deal...
DON'T LET YOUR FOOD BE BORING!!!

Boring food will send you down the demon path lined with Twinkies and Doritos!
You also can't be afraid to experiment. My green muffin was awesome! It may have looked like it was made from spinach, but it didn't taste like it at all.
Make it a great one!!