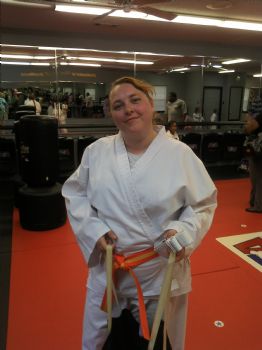 So, I've been doing Taekwondo which is an awesome workout but also very fun. I read an article on sparkpeople recently that talked about how routine was the enemy of fitness or something like that because you plateau or get bored. Taekwondo is always challenging.
There is the basic warm-up, fitness part of the class that is straight jumping jacks, sit ups, push ups and we also do a lot of cross fit type things like combat crawling or crab walking the length of the dojo. They also really like doing things with medicine balls.
We cycle through different weapons so this week my arms, shoulders and just upper body in general are being taxed by working with a staff. Seriously, ever done figure eights with a six and a half foot pole? It'll work your shoulders pretty good. There is this move where you pass the staff behind your back before spinning it in front that involves a shifting of my weight and the weight of the staff that makes my obliques stand up and scream. In fact, the first day of staff training these small muscles in my chest went into spasms on the way home presumably because I'd never done anything that really worked them out before. The month before it was nun-chucks which did some wonderful things for my triceps.
Form is great, involving a lot of sustained muscle use. Lots of squatting in first position for what seems like forever while the instructor goes around the room adjusting people's fist positions. There's lots of balance and shifting from one position to another very slowly and precisely at first and then, later, with force.
There are some really awesome things about it.
1) There is a natural progression. Going from white belt to orange belt has increased the challenge of the work the kids and I do in the class. The forms require more skill and balance which translates to more time spent in a precarious position using a ton of stabilizing muscles.
2) Things stay fresh. Like I mentioned earlier, we cycle through new weapons every two months. As soon as you start to get confident and lean toward a feeling of boredom with a weapon you move to a new one. You're learning new forms, new things. You're not doing the same aerobics workout everyday. And there are also wonderful things for me (because I take a class with my kids) like playing dodgeball. If the instructors reach a natural end to a lesson and there are five minutes left to the class they'll pull out a big silver ball and play dodgeball with the kids in the dojo. If you get hit, you step out and do five jumping jacks.
Taekwondo leaves me sweaty and sore but coming back for more.
That's why my feet are so stupid. I have developed plantar fasciitis in both of them. The doctor I went to see (who was SO horrible but that's an entirely different blog post) thought it was because I recently started trying to get back into running because my oh so awesome runner sister KCathy had the brilliant idea of us doing the New Orleans Marathon together.
That doctor gave me an anti-inflammatory and told me to stay off my feet for a week but by the end of the week I just really missed class. So, I ignored him (stupid) and joined the kids for two classes that focused exclusively on form and weapons training without any general fitness stuff. I noticed immediately in form that my feet were jacked and I'm almost certain it's the shifting my weight and balance on the unstable surface of the dojo's padded floor that is causing the strain.
I'm not sure what to do. I can't wear shoes so no corrective footware. If anyone knows of some kind of taping or maybe if an elastic brace will help?
I can't give up Taekwondo. It's so important to my kids and I love it so much and it does such good things to my fitness tracker.
If anyone knows something that could help or thinks they know someone who might know something, I'm putting up a red flag and desperately tapping out SOS here.
HELP!!!