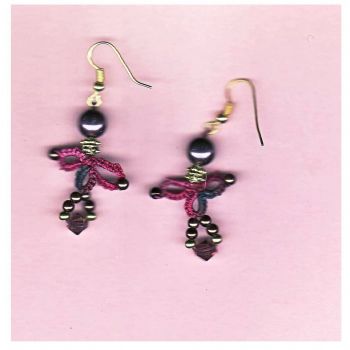 Supplies: Scissors
Size 20 tatting thread
One tatting shuttle
Beading needle
2 earring wires
Two crystal pearl beads (6mm)
Two Rondelle
Twelve seed beads
Four metallic beads
Two Swarovski effects beads (4 mm)
Embroidery needle
Fray Stop
Instructions:
1, Fill shuttle with at least 4 yards of tatting thread.
2. String beads onto thread in this order: 3 seed beads, 1 metallic bead, 1 crystal bead, 1 metallic bead, 3 seed beads, 1 rondelle, 1 pearl.
3. Pull out about one yard of thread.
4. Wrap thread through looped end of earring wire twice. Make square knot (optional)
5. With, beading needle still on thread, go back through pearl and rondelle.
6 Slide up one seed bead to make first ring. Ring 7 ds (double stitch), 1 bp ( bead picot), 7ds, cl (close).
7. Slide up next 7 beads onto thread for next ring. R 7ds, bead picot with all 7 beads, 7ds, cl.
8. Repeat step 6.
9. Tie two threads together close to rondelle with square knot.
10 Leave about six inches on each thread and "finish" by sewing thread back through tatted knots and then trim close.
11. Put a drop of fray stop on knot near rondelle and knot near earring wire.