Good Monday Greetings to you all! Hope you all had a good weekend. I for one, had an interesting one.
First off, I had a 16 mile long run planned for Saturday morning. As has been my routine, I try to get this long run done before grandson comes over for Saturday morning pancakes with Grampy and Grammy (when one or both of us are in town -- this weekend Grampy was gone), which means I need to be out the door by 5 am. In anticipation, I laid out everything the night before and even worked to go to bed earlier than normal so I could get some sleep after nights of too little. 4:10 am I woke and heard the pouring rain. As I listened to it I recalled the famous Portland marathon that I ran in heavy rain, not bad, but not great either. Given that this long run was not a race and being ahead of my training for NYC in November, I opted to wait and see if it let up thinking I wouldn't go as far but at least get out there. But no, the rain kept up so yea, I slept in. I didn't know how I would make it up so was considering forgoing it all together. But as the day went on the guilt mounted. When I picked up hubby at the airport late that night I told him I was going to go the next morning and try and get the 16 miles in before church. He understood since he was going to do his 7 miler Sunday afternoon.
Did I go? Well, here I am at mile 6: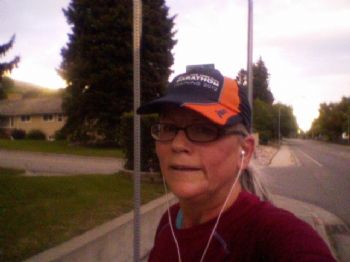 I took four pictures of myself for you all. I totally run with my mouth open and usually look like I am close to death's door :) So picked the one with the best smile. I think I still look pretty ragged, but let me assure you, I don't feel as ragged as I look.
Here is the view I had at mile 11: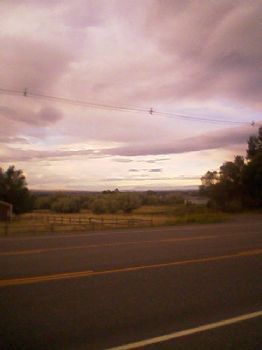 Once again, you simply cannot see the mountains in the distance, but it was an inspiring view.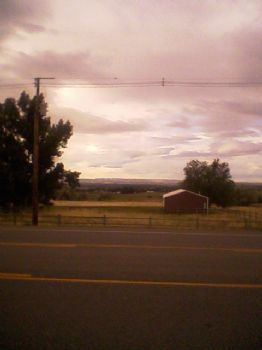 Looks like a good water coloring painting to me.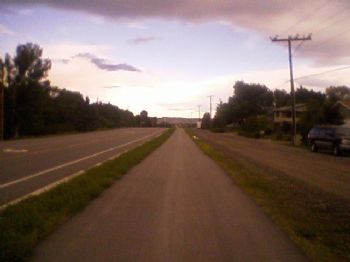 And so after the little break to admire the view, I was off again on the paved path.
I completed 15.75 miles. Close enough to 16 for me, and no more guilt. In fact, I sat in church totally relishing the feeling of exhausted legs and a good workout. Hubby had to do his 7 in a horrendous wind, but he did it. Super proud of him!! Later on Sunday we had a big BBQ only we had it inside since the weather outside was not good at all.
Even though it is our anniversary today we are opting for nothing special since we have a big trip first part of July that is going to be this year's gift to each other (we are joining oldest son's inlaws for a stay in the Sonoma Wine Country--they have a few more funds than we do and invited us to celebrate their 40th wedding anniversary trip, so we said yes -- duh!). Tonight it will be the elliptical and Foyle's War on Netflix.
Blessings!
Annette