Cooky Recipe Number 9: Butterscotch Brownies and I ran a 5K Race
Sunday, June 10, 2012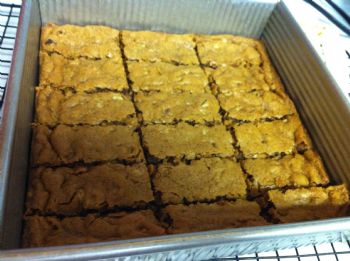 I just pulled these out of the oven...the recipe says to slice when warm, so I did. They smell fabulous.
I ran my second 5K this morning, the 18th Annual Run and Walk for Lupus. I did this one last year and it was my first race ever. Despite the fact that it was at least 10 degrees warmer today, I manage to take almost 2 minutes off last year's time. I saw 36:10 as I ran by the finish..official results have not been posted yet...it'll take at least a week based on last year.
I was near some kids who kind of snickered at me for stopping to walk (I did 90 seconds run and 30 seconds walk) but I passed them after the first mile and didn't see them again. Snicker all you want kids, the Galloway method does work. I may not be a speed demon but I think I did pretty well. The course was "rolling hills" and it was somewhere in the 80's.
My husband ran as well and my brother and BFF walked. Afterward we headed over to the Country Inn for brunch....all in all a nice morning.