It's been a fun week. Busy, but fun-filled. I had to work outrageous amounts on Monday, Tuesday, and Wednesday in order to get Thursday and Friday off but it was well worth it.
Thursday morning I watched my baby girl graduate from 8th grade. She won several awards, including one in orchestra and one for starting a writing club. She has all A's and one B on her report card. I couldn't be more proud.
After the ceremony, hubby had to go back to work so the girls and I headed for Michigan. Drove to a beautiful little beach town and had some lunch on the patio overlooking Lake Michigan. I had two small crab cakes and a side salad. That wouldn't have been so bad, but the girls ordered some spinach/artichoke dip with tortilla chips. Ate way too much of that. And then there was the trip to the ice cream shop in town.

I did walk for over an hour on the beach and pier. My daughters were actually yelling at me to slow down and stop walking so fast!
Here is a picture of us on the viewing station at the end of the pier.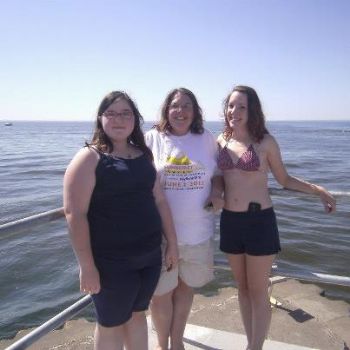 I got up Friday morning and went to the gym, followed by the farmers market. DD requested Swedish Meatballs for her birthday dinner that night. Followed by cupcakes. If I had eaten only one, the day wouldn't have been a disaster.
This morning we walked a fundraiser 2.5 mile walk for the zoo. I made a new personal record of averaging 19 minutes a mile.
Tonight hubby and I went out for Italian food (I had a large salad to start and then ate 1/2 of my entrée and brought the rest home).
I won't have a loss tomorrow since my average calorie intake this week was 2300 per day. I will fall on my knees and thank the dieting gods if I don't have a gain!

So anyway, lets see how I did with my goals:
Get 200 minutes of cardio in no matter what day I do it on. Normally I don't do cardio on Tuesday's and Friday's, but with this weeks weird schedule I will just get as much as I can on any day I can do it.

Do a 10 minute SP video every day. Missed a couple days. No reason, I just got lazy.
Eat 5 fruits/veggies each day. Much better than last week. Need to keep working on this one.
Drink 3 bottles of water each day. So close, but not quite!
So I'm spending this evening reading some blogs and articles. Looking through message boards, trying to get my mojo back. it's been waning these past 2-3 weeks and I need to get it back.