Saturday, June 09, 2012
I ya'all.... I am still here, started blogging everyday but there was just no way to keep up with that! I am still keeping up with eating right and being more active (still have some work to do on the be more active part) however!
Recent storms have created extra outside work lately... feel like a kid again playing pick-up sticks, after mowing today found a lot more that need picking up! Looks like we will be getting a new roof, even the sub-roof shingles were damaged so the contractor is haggling with the insurance company on the settlement amount. That will be great to have it completed, we are hoping to list the house very soon so we can be open to a possible move to the 808 in the future!
Went shopping for some fruits and veggies last night, chopped up an awesome salad to have tonight along with some leftovers. Will be fast and easy and not heat up the kitchen!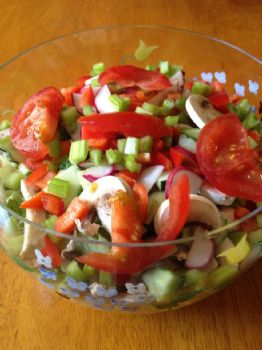 Have a day off with the hubs tomorrow and am trying to figure out if we should knock out a couple things on the 'To Do' list then enjoy some time together or enjoy the day totally and let the list wait a little longer. ?! decisions, decisions
We had a very nice trip to Dallas a couple weeks ago. We went for a concert (DMB) but also took in a few museums, antique shops and of course great places to eat. Even met up with a guy we went to high school with who lives there now. The most unexpected great thing about the concert was the band that opened for Dave Matthews was Edward Sharpe and the Magnetic Zeros, love their music, was only vaguely familiar with it from TV shows I watch that use some of the tunes. I am considering getting their new album. I may make it my prize to myself for reaching my next weight loss goal, that may make me kick it in gear!!