We are lucky enough to live in a town that has an amusement/water park that's about 10 minutes from us. The school always sells the tickets at a huge discount, but there's a catch. You can only use them in June, or the last weekend the park is open, usually Labor Day weekend. Well, we are already busy every weekend in June and 2 years ago when we waited until September, it was chilly and rainy. That did not make for a pleasant trip to the water park.
Sooo, we decided that because tomorrow is supposed to be 82 degrees and sunny, better go now! I'm not one for last minute plans, and last minute plans to go to a WATER park is definitely NOT my cup of tea. It really is the best decision because we really don't have any other time to go, but I like to dwell on things... like being in a swim suit in front of God knows how many people...
The kids are older and they want to go on the bigger water slides. I love the water, but the combination of water and children just causes me to have a panic attack. Not just my kids, any kid. Water is not an easy medium to run through when you're trying to reach a child in distress. It scares the hell out of me. I've already told them they can't go on any slides alone, which means I have to ride with one of them while hubby rides with the other. I'm already having a stroke!
I know we're going to have a blast, but I'm not going to sleep tonight stressing about the swim suit and the kids safety. I've been seeing a lot of people posting pics in their swim suits, and I always thought, I could never do that. Well what better way to get over some of the anxiety, then to put it online for anyone to see, right?!?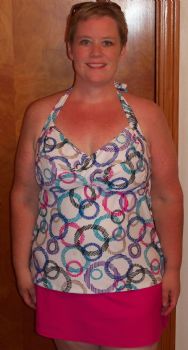 There you go, that wasn't so bad. Now on to real life tomorrow!
****************************
***UPDATE*****************
****************
We had SOOO much fun! I was super nervous about the swim suit, but after I got there, I realized I was not the worst looking thing there. Even some of the tiny people made some very poor choices in suits. Come on people, it's a family park, YIKES! But I quickly got over those fears and moved onto the water phobia. We went on the lazy river with no issues, and then the kids wanted to go on the bigger slides. This is where my fear takes over. Of course there were TONS of steps to get to the top, but that wasn't a problem this year! I've been a swimmer my whole life, and I have no fear of heights, but as silly as it seems, I'm afraid I'm going to fly over the edge of the slide. I know, ridiculous!
You have to go alone, and I thought I could go with Jake, so now I'm really sick to my stomach. He went on one side and I went on the other. It wasn't nearly as bad as I imagined, but I still felt as if I could fly over the edge. When I got to the bottom, I stayed in the water to wait for Jake. He came flying down that slide, flew into the pool, jumped up and asked if he could go again. Ugh, all my fears, were instantly gone! My dad went with us, and we rode a few of the bigger slides while hubby stayed with the kids on the smaller slides, and we all had a great time.
We had a picnic lunch and then went to the amusement park, where all of the anxiety came back from 2 years ago. I couldn't hardly get into the rides, the safety harnesses didn't seem tight enough because they barely came down. I was worried my kids would fly out of the ride when they were with me because the harness didn't seem to fit right. I was sweating like a pig, and was totally embarrassed by it. This time, NONE of that happened. I had plenty of room in all the rides, all the harnesses fit properly, and even though it was 82 degrees, I hardly sweat at all. I'm finally feeling like a normal sized person.