Burdened Down
Saturday, June 09, 2012
How is it after a big event of happiness and joy that I often find myself on the opposite end of the mood pendulum? Just after my big marathon walk seems things unraveled a little in my life and left me swinging. To top off my sad days, my old dog of twelve years passed away this week. Ironically the day just before I received a book that I had ordered months ago in the mail. Seems it went around the world before it found my house. The title of the book - Great Day, Every Day.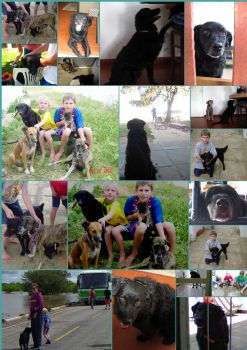 Blackie 2000-2012
It was like a little breathe of fresh air. I'm breathing again and biking again and working on facing each day again one at a time. Life is work and seems if we want to live well we must work at it each and every day!
This morning I left my piles of laundry and stacks of dishes and went to get my hair done and eyebrows. Feel like a new woman and will work to keep the happy thoughts rolling.
Take care and have a good week all!
p.s. Since my big walk I have been trich free - this week makes three! I had been pulling and picking some during May fretting over something.