Friday, June 08, 2012
Because I'm a glutton for punishment, I have decided to add a new challenge to my list. Now all of the parameters haven't been hashed out yet but the general gist of this challenge is to reach your goal within 365 days. Doable right?
I got this challenge this morning when I was creepin around tumblr and happened upon Undressed Skeleton's blog. She is a super inspiring gal, and her blog is chock full of advice and recipes. Check it out at http://undressedskeleton.tumbl
r.com/
If you would like to join me in this challenge, GREAT! She started it June 1st and her followers are pinning each assignment to pinterest and tweeting them to her. I missed her deadline (June 1st) and I don't tweet, so I will be posting her assignments here.
Here's what she says about the 365 Day Challenge, "The 365 Day Challenge will allow anyone who participates to express how they feel, what's new, and find motivation through others."
Assignment #1: Fill out the form and write out your goals.
Here's her template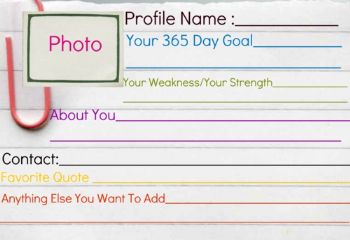 And here's my form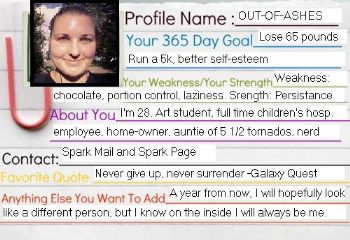 Okay, there it is....
Next up, Assignment #2 Take a picture of one thing you changed in the past two days of the challenge. It can be anything like changing a room around, changing your hair color, or getting rid of old things that don't mean anything anymore. If you haven't made a change, then get up and make one.
If you would like to do this challenge with me, send me sparkmail, write on my sparkpage, or even on this here blog or the ones sure to come and then I can check out the assignments that you posted to your blog and cheer you on too!