Been doing okay since Friday, although definitely feeling the weight of depression...nothing too serious, just a little sad, overall. It'll get better as I fall into a routine.
So, to keep myself busy, I've been working as much as I can (not enough for my tastes, but whatever), and doing lots of cooking and baking!
Last night, we had Greek grilled chicken kabobs with homemade tatziki, spanakopita, and grilled squash and zucchini...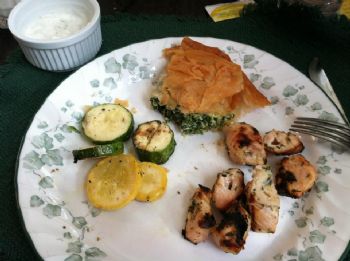 Then I baked some brownies from the Cook Yourself Thin (Faster) cookbook...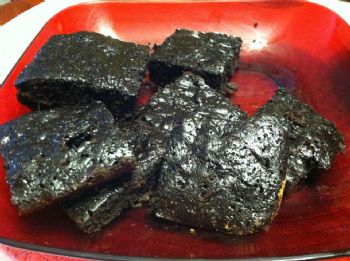 I didn't take a picture, but the night before, I made wild mushroom ravioli (store-bought, in the refrigerator section: Pasta Prima 100% Natural Wild Mushroom Ravioli) with a light white-wine-parmesan-herb sauce...SO delicious. I blew myself away!
I've also made the Cook Yourself Thin biscotti, now--but with some tweaks. Being as I'm allergic to tree nuts, I substituted orange extract for the almond extract, and coconut for the ground almonds...amazingly delicious, these got a thumbs-up from all!
Tonight will be roasted salmon with rice and a salad...
And it sounds like my sister and I are going to gang up on a food blog! I'm so excited! I'll fill you in on details, once we have them firmed up. :-)