This morning I went for an early morning hike beforeI started work. I went through the Gomez Peak area where there was a 50 acre fire last Saturday. I didn't go through the burned area because I didn't feel like climbing up the peak but hiked around some of the other trails and took pictures of the burned area in places where I could see it from the trail. In lots of places I can't see it because of the trees around me and the general terrain (up and down hills but not as bad as climbing to the peak). I didn't follow the exact trail that Lyndaloves2hike and I did a few days before the fire, but the general area is pretty much the same.
Started out from a parking area at the end of the picnic grounds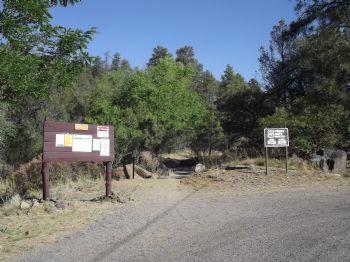 It was early yet and there was a lot of shade and it wasn't too hot. The first part of this trail climbed for a little bit.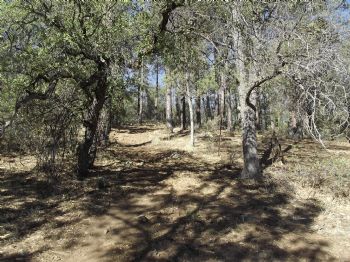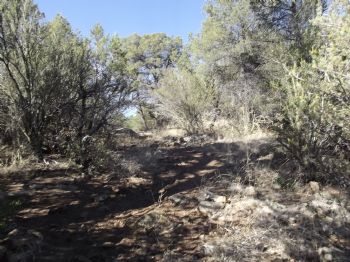 Then it leveled out more but there were still a lot of up and down areas.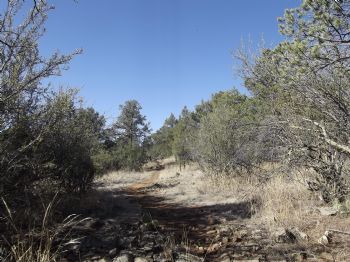 This is the first views I had of the area of the fire. I have climbed up that area a number of times. I have a 18x zoom on my camera so zoomed in on the area.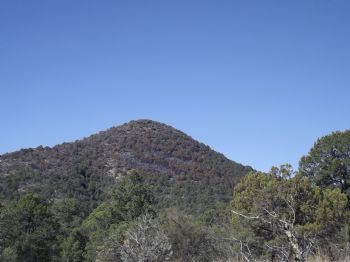 Continued on the trail some more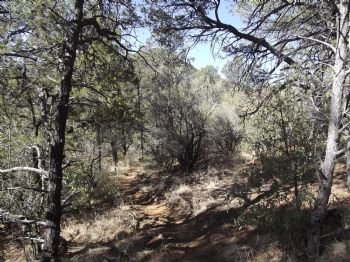 As I got a little closer to the area I got a couple more shots of the burned area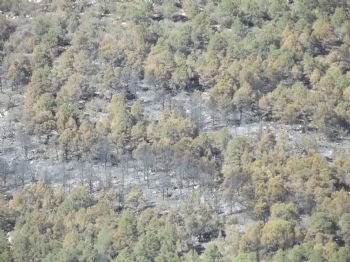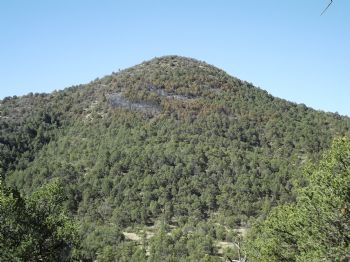 I came to a fork in the trail and turned and went left to circle around back towards where I was parked. About 1 1/4 mile to the parking lot from this area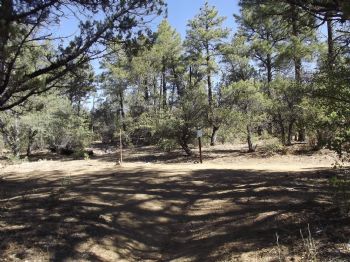 Turning to the left where the arrow on the marker points would have taken me up to another peak called 180 peak. Like I said, not in the mood for climbing way up and not enough time. I used to hike these trails a number of years ago before they every had markers on the trail like this.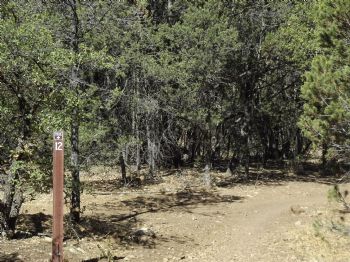 Burn area in sight again with my zoom lens. When Lynda was here, we followed a part of trail that went partway around the peak further below that burn area. This time I didn't go that way. There are a lot of trails networked together in this area, which is only 4 miles from the city limits and about 15 minutes from my home across town.
If the fire had managed to get to the top of the peak and traveled down the other side it would have hit homes. But fortunately due to the skill of the firefighters that didn't happn.
Continued down the trail.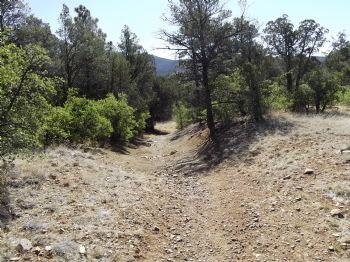 Went through a gate on the way back down. When Lynda was here we went through that gate going up shortly into our hike. But we circled the opposite direction of where I circled to get to this gate.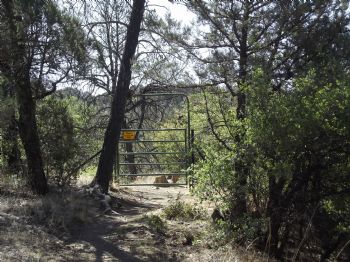 Almost down to the road then 1/4 mile from the parking lot there to the parking lot I parked in. The parking lot at the trailhead here doesn't have any shade around it so I had parked 1/4 mile up the road in the picnic area so I could leave my car in the shade since it warms up fast.
You could probably tell from the pictures that burn area is on the steep side of the peak. There is a good trail that switchbacks up the peak but the area is really rough. Lots of rocks, shrubs, trees, cactus, and other things that make any walking off the trail up there difficult and steep. So the firefighters had to deal with that. I can't express enough how grateful I am for the Hot SHots fire crew. Some of the fires burning in New Mexico are in much worse terrain, such as the huge Whitewater-Baldy fire burning about 90 or 100 miles north of us as the crow flies. That fire has been burning for a few weeks now and is actually the Whitewater fire and the Baldy fire that were two separate fires that merged into one in the wilderness area. The last I heard it is now about 30% contained, meaning they have built fire lines it probably can't jump around about 30% of it. It has burned more than 263,000 acres so far and is the biggest wildfire in New Mexico history, and we've had some big ones in years past.
There are several other fires burning around the state. Yesterday there was one that started 5 miles from the Santa Fe airport in the northern part of the state that burned almost 300 acres in the first 2 hours after it started. They've got that one slowed down and 65% contained. How fast they can contain a fire depends so much on wind and the terrain it's burning in. There are a few others too.
Fire restriction are already in effect in some parts of the state and on state-owned public lands but Friday more restrictions go into effect in the western 2/3rds of the state for forest lands and other lands including more restrictions on campfires, smoking, fireworks, and others. I know last year that included if you were out in the forest you had to park your car on an area with cleared space of at least 10 feet around the car to keep the hot mufflers or catalytic converters sparking fires. We have had years where the forest had to be totally closed until rains start in July for our monsoon season. Hopefully it won't get to that point this year but the fire dangers are something we live with in this state.
Hope you enjoyed my hike. THe hike was nice even though it's sad to see the burned area. But like I said before, it could have been so much worse. They say it is human caused but haven't released more details on whether it was a cigarette carelessly tossed or something else that a person did that started it. We need to be very careful and respect our lands. Not everyone does that though, which makes me sad and angry is and a whole different sandbox I could get on but won't right now.
I got in 3 miles of exercise hiking up and down hills this morning.
Still need to post more pictures from Lynda's vist but will another day. Have a great day today and remember to get your veggies and your exercise in!