That's the question that's bouncing around in my head today. Some of you may remember that I want to reach my Wonder Woman weight loss goal (-54 lbs.) by the time I go to DisneyWorld. Well, I'm nine weeks away and I have twelve and a half pounds, staring me in the face.
This is going to require a Herculean effort on my part. I have no problem being a slow and steady loser. I'm not going all hardcore, gotta be perfect, all or nothing. Nope. My age probably factors in there too. I can't sneeze and lose weight, like when I was younger. Holy moly, wouldn't it be awesome if I could? I'd run through fields of ragweed every day. I digress. Yes, I accept that I'm a slow loser.
But, if I'm being honest with myself, I also know I slow myself down with my food choices. I don't necessarily struggle with binge eating and my portions stay fairly reasonable. But I balk at meal planning, dislike cooking, and more than often, end up winging it. Winging it rarely translates to a healthy, well-balanced, nutritious meal. And I'm sloppy with tracking my food. I'm great at tracking breakfast, but it trickles off after that. I'm not beating myself up over it. Thanks to Spark, I don't do that anymore. But I do see where this is still an obstacle I need to work through. So, for the next nine weeks, I'm challenging myself to plan meals on the weekends, shop Monday mornings, and track my meals. Iíve already started with this week.
Nine weeks. That's a finite period of time, which makes it seem a bit more manageable. Nine weeks. Will I make my Wonder Woman goal? I don't know, but I want to give myself every opportunity within my control. I want to see what I can do in the next nine weeks. I caught myself wondering if I could actually do all this food stuff and then I stopped myself. Of COURSE I can do this! Good grief! Today is Day 429 of my exercise streak. I didn't think I could make it to Day 25. Now, exercise is a habit, ingrained into my day. If I can do THAT, I can plan meals for nine weeks. And who knows, it might just become a habit. I'll let you know how it goes.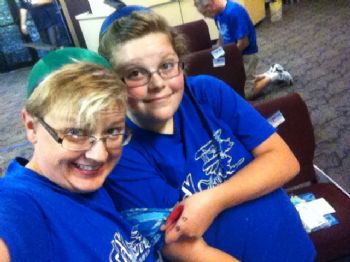 Audrey and I are helping in VBS (Vacation Bible School) this week. See our propeller beanies? They're awesome to wear in the convertible too. hee hee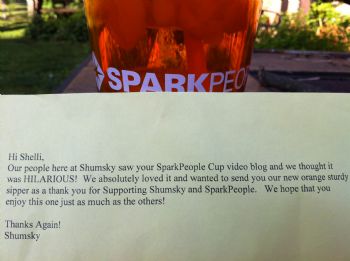 Check out this FUN surprise that came in the mail! Can you read the note? I love it; it totally matches my orange SparkShirt. Drink the colors of the rainbow!