Week 5 Late Weigh In-- and LOOK at my pretty Hula Hoop!!
Monday, June 04, 2012
I was out of town so I didn't get to weigh in on Friday. I weighed in yesterday and I was down 3.6 pounds for the week :) yay!
While out of town for the week I walked 3 miles everyday even though there wasn't a fitness center at the hotel! I also stayed within my calories everyday except for one day. I went to the store and stocked the room up with some healthy foods so I wouldn't be tempted to eat out every meal. I also swam some in the pool.
So in the past 25 days I have walked 50+ miles!!!! yay :) I started with one mile and I am now walking 3 miles for 6 days a week.
A few weeks ago I bought my daughter a hula hoop and I fell in love with watching her play with it.. I figured why couldn't I do that?!?!??? So I started looking around Spark People and saw there were Hoop Enthusiasts on here!
I went to a shop that was suggested on one of ANGELWENDYMAMA's blogs.
The hoop is soo pretty! I NEED A LOT OF PRACTICE.. lol. I have only had it for one day.
I can only get it around a few rotations before it falls to the floor. I just keep picking it up and trying again. I am looking on the internet and spark groups for tips. I WILL NOT GIVE UP!
Even though it keeps falling down my heart is still beating out of my chest after a few minutes of trying.
Here is my lovely hoop!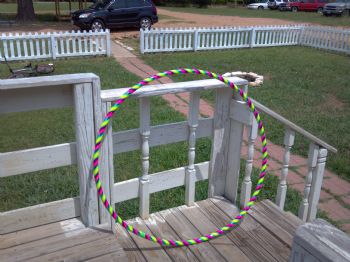 ooooooooohhhhhhhhhhhhhhhh aahhhhhhhhhhhhh so prettyyy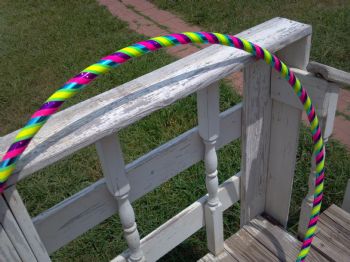 I was hoping to put some pics up I took at the hotel but they are on my husband's laptop still out of town with him.
Here's to a great week Sparkers!