Well, I did it!!
Even rocking a chest cold and running on almost no sleep. Oh, and with an upset tummy. FYI, beans the night before a race are not a good idea. In my defense, I was trying to "carb load" without gluten and with minimal calories left for the day. But hey, I still did it!!


My friend Anne is battling a case of plantar fasciitis right now (ick) so she couldn't run with me, but I ended up running the second half of the race with an 11 year old girl. I had stopped to check on her because she seemed to be struggling while walking, and quickly discovered that she was just struggling with pacing... she would run really fast and then lose her breath and have to walk slowly to recover. I talked to her about it and once she felt better we started jogging again. I would estimate that we did about 5 to 1 jogging to walking intervals, depending on terrain mostly (several hills were involved). Ironically, I think her semi-sprints helped my speed. LOL! My fastest 3.1 on my own so far had been 43 minutes... Today I ran under the clock at 38:54!! My stretch goal was to get under 40, but I didn't really think I could because of my chest congestion. Turns out I not only reached it but bettered it! I'm a little mad because my "official" (non-chip time) is somehow 40:29. No way! I'll buy a couple seconds off, but they have me crossing the finish line a full minute after my 11 year old buddy when I really let her go ahead but crossed right after. Booo. I'd like to file a complaint!! It's OK though, I know what my time really was and that's what matters.
Even though Anne couldn't run with me she organized the event (she's the Communications Director for the Down Syndrome Alliance of the Midlands - I could not do my job as President without her, that's for sure!) and she came out to support everyone! I asked her to take a picture of me for this blog, and then we took one together too... Here you go!
Me, shortly after crossing the finish line but before water/banana... happy but drained! (I'd like to note that absolutely nothing is "sucked in" in this picture... I realized after the picture was taken that I hadn't posed properly. LOL. That being said, I'm pretty happy with how I look relaxed, given that I'm up a few pounds right now!)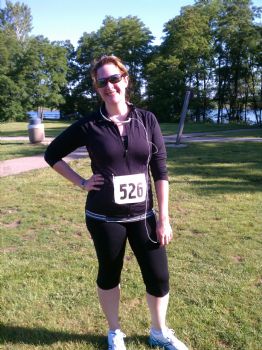 Here's the two of us together - she's Sparking with me now and my text accountability buddy.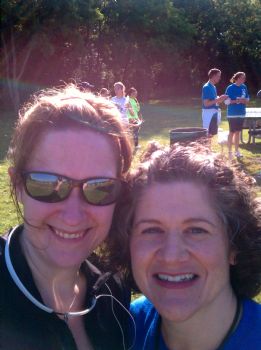 Finally, here's a shot of me and my son Allen when I got home... I was so proud that he could read all three numbers on my race bib. He's doing so well! At the end of the day, he (and his Buddies big and small) are the reason for the run today. It was a great opportunity to raise some funds and bring awareness of Down syndrome to a larger audience. I'm proud of myself for completing the 5K today in the time I wanted, but I'm even more proud of my little guy for every step he takes and every new word he learns. His life is like a marathon compared to my little 5K - loads of challenges - but he's always happy and upbeat. I don't know what I'd do without him and his big sister Kayla!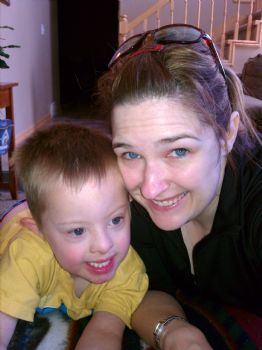 There were several photographers along the route today, so if I get some decent pictures from there I will post them as well. I'm actually curious to see what my gait looks like in a photo - LOL. Ever wonder what you look like running (or ice skating, or in Jazzercise, etc.)?
Hope everyone is having a great weekend!
-Allison