So I started a "Jean Challenge" on August 5th (
www.sparkpeople.com/mypa
ge_public_journal_individu
al.asp?blog_id=4409249
)
I reread that blog and saw I also thought I was going to actually start working out, LOL. I had good intentions, but I never worked out until recently. Doing a Jillian Michaels DVD once every couple weeks did not count as working out! But, I have been working out for about a month, Zumba + Strength Training.
When I started the "Jean Challenge" I took pictures of me in jeans so that I could monitor the weight loss in a different way aside from the scale. Because lets be honest, the scale likes to lie to us sometimes. So on August 5th I took a picture of me in several jeans, however only a few remain! In March I found the old pictures I took and went ahead and took the pictures and updated (
www.sparkpeople.c
om/mypage_public_journal_i
ndividual.asp?blog_id=4795777
), and then something big happened today so I had to update once more! Well... let me just get to the photos and go from there
These jeans are a size 12 from Old Navy. As you can see when I first wore them in August that they were not flattering at all and you could tell that I couldn't breathe properly! LOL. In March, the pants fit and didn't look like I was going to die! It was a little tight around my "woman area" but it fit and looked a whole lot better. Today, the pants fit pretty well in my eyes, but they do not fit me well around my booty (they are too lose back there) So that is completely awesome and totally exciting!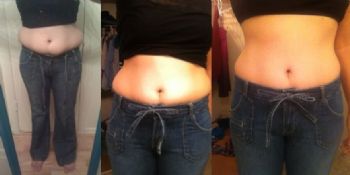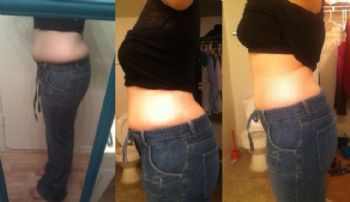 These jeans are a size 13 from Roxy (but these pants run smaller than the 12s from old navy) When I first put them on in August, I couldn't even zipper them up! I didn't even bother trying them on in March for whatever reason. Today I put them on and although they make my love handles stick out a little bit, they fit pretty darn good! Just a little bit more and the excess love handles these jeans give will go away. Plus, these make my butt look GREAT! LOL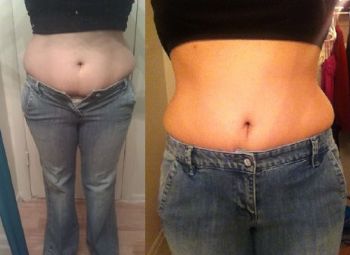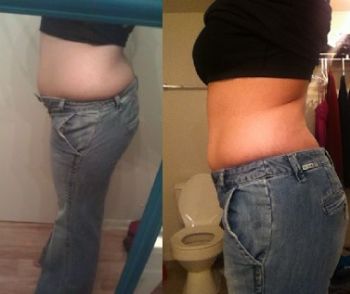 The infamous white shorts, these are a size 10 from Old Navy. I never wear shorts (the title of my SparkPeople Page is actually "Who Wears Short Shorts" because my goal is to be able to wear em) and I seldom wear white because light colors show all my imperfections. I bought these well over a year ago, I'm thinking closer to 2+ years ago. I went to Old Navy and bought these as my "motivational" shorts for me to be able to fit into, but that didn't help me put down the Taco Bell or KFC lol. So when I put these on in August, they were hard to pull up and couldn't even think about buttoning them. In March, I was able to put it on the second button (they have two buttons) so the shorts still didn't fit but I was able to at least get one of the buttons in the hole... Even if it was in the wrong place ;) Then today, the reason for this blog, I was able to wear them PROPERLY! These give me love handles and are a little tight to the point I get a camel toe (LOL) so I just have to lose a little bit more and these shorts will be looking FAB. I can't believe they actually fit me! How awesome?!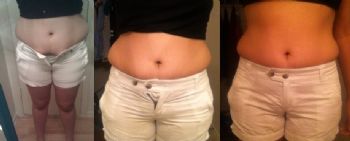 Talk about seeing/feeling a different sort of accomplishment. I love the scale accomplishments of the numbers going down, but clothes fitting me and going down in size; it's such an amazing accomplishment. I can remember when these shorts didn't fit (mentally but I can't picture how my body looked when they didn't fit) You know, sometimes I get discouraged because I see my imperfections and how much work I still have that I forget to give myself credit --these pictures remind me of how far I've come and that I gotta give credit where credit is damn due. I've not tracked for days, I overate, I didn't exercise, I fell off the wagon; but I triumphed. I have a ways to go, but I've picked myself up every single time and that's an amazing feeling. Even when I've done bad, I have not given up. This is such motivation for me to keep going and to give myself some credit due, which I don't do enough. :) I'm excited, baby!!!