What a crazy weekend - last night I went to the Nickelback concert with my son and what a great time that was! Here are a few pictures: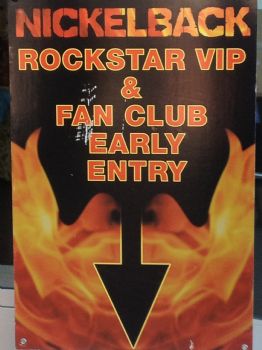 Before checking in we had a snack at a local tavern across the street. Loved the early check!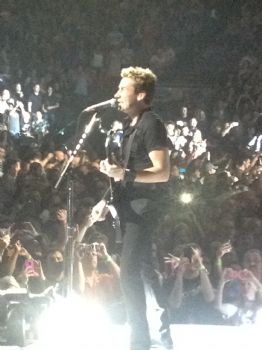 We had great seats that were five rows back from the right side of the stage.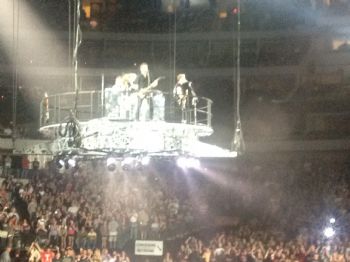 I loved the stage that hung above the crowd and spun around. They did two different stages during the show so it gave people on both ends of the arena a good view. We got home from the concert about 12:30 in the morning.
Graduation celebration started yesterday before the concert. I packed my car with helium balloons and decorated the front yard and inside of the house while Christy was at her senior breakfast.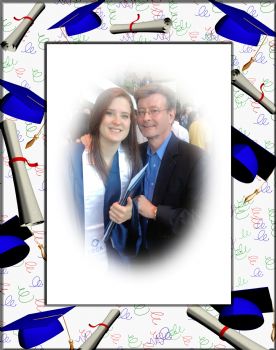 This is a picture of Christy and her dad. I haven't uploaded pictures yet from the camera, this is just one I took with my phone.
If you've never seen the transformers movies, there is one where the main character is going off to college and the mom carries his baby booties around the house crying. I've always joked that I was going to have a major baby booty moment at graduation, so with the thought of that joke in mind, I took christy's baby booty in my purse. I was going to take it out at the restaurant afterwards and put it on the table for pictures.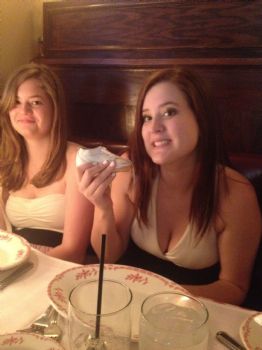 It was funny at lunch, but not prior to the start of the graduation ceremony. I had it in the top of my purse and I went to the bathroom. I handed my husband my purse to hold and he saw the booty. When I came back he was bawling with tears running down his checks because he saw it and freaked out. Poor guy - I ended up giving him my kleenex. The girls laughed about that at lunch. He cried more than I did.
After the late night, early morning, and lots of good Italian food, I took a nap. I felt like I was waking up out of a coma! I got dressed and hit the gym for a good upper body and ab weight lifting program and some time on the bike. I was definitely trying to work off margaritas from the concert, and Tiramisu from today. I really felt good after the workout.
A great 24 hours and now I rest!