Saturday, June 02, 2012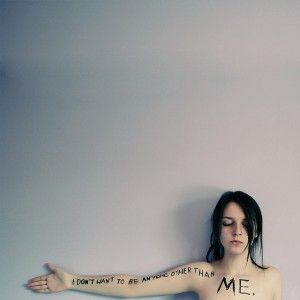 Acceptance has always been that somewhat elusive concept that I can apply to others but have much more difficulty applying it to myself. I am pretty good at accepting people for who they are; so why is it that I have a tendency to not always apply this notion to myself? I find that I tend to set higher standards for myself than I do for anyone else. I often wonder why it is that I donít accept myself in the same way that I do with others. This ideal of accepting yourself and loving yourself; flaws and all has been on my mind recently, partially because I turned the big 3-0 in April. I have always heard that with age comes more acceptance and less worrying about what others think. I think that because I have a tendency to over analyze things that this manifests itself into undo worry. I am working on filtering the needless chatter that goes on in my mind (and for the record I only sometimes respond to said voices!) that tells me that I am not good enough or pretty enough and trying to focus on listening to my own voice instead. My voice reminds me that I am strong, smart, kind, loyal and beautiful. I am also working on filtering out the people in my life that try to tell me otherwise. It has become difficult for me to maintain relationships with others in my life, even people that I have known since high school that are toxic in my life. I am extremely loyal so it tough to break these ties but I feel like some of these relationships have always been very one-sided and it has become mentally and emotionally exhausting to maintain them.
As always, I am a work in progress and I am always looking for more opportunities to grow as a person and to learn more about myself. Part of this is learning to accept that this is not a marathon but a journey that takes time. I look forward to the day when I just donít care about the minutia and can just be. Oddly, I look forward to the silence and the peace that comes with loving where you have been and who you have become.