So, went in and saw my doctor for my Annual Physical and showed her my hand. She referred me to a hand specialist. He proceed to informed me that I have what is called Dupuytren's Disease. I said " Hey Doc I know I am a little crazy but, did you have to call me that?" He laughed and proceed to explained.
Well, I know I am crazy as only I would get something that more men would get than women. So, here is the story on the disease itself and what it looks like.
Dupuytren pronoun "duh-pwee-TRAHNZ" is Dupuytren's disease is an abnormal thickening of the tissue just beneath the skin known as fascia. This thickening occurs in the palm and can extend into the fingers (see Figure 1). Firm cords and lumps may develop that can cause the fingers to bend into the palm (see Figure 2), in which case it is described as Dupuytren's contracture. Although the skin may become involved in the process, the deeper structures—such as the tendons—are not directly involved. Occasionally, the disease will cause thickening on top of the finger knuckles (knuckle pads), or nodules or cords within the soles of the feet (plantar fibromatosis).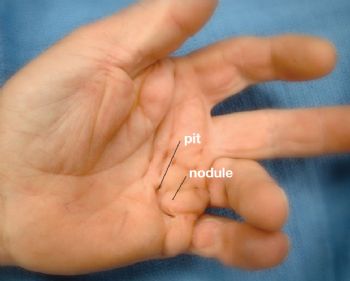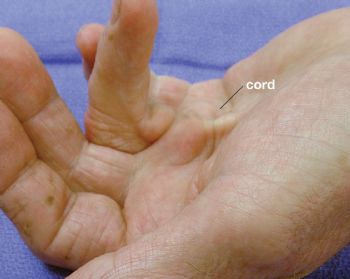 The cause of Dupuytren's disease is unknown but may be associated with certain biochemical factors within the involved fascia. The problem is more common in men over age 40 and in people of northern European descent. There is no proven evidence that hand injuries or specific occupational exposures lead to a higher risk of developing Dupuytren's disease.
Symptoms of Dupuytren's disease usually include lumps and pits within the palm. The lumps are generally firm and adherent to the skin. Thick cords may develop, extending from the palm into one or more fingers, with the ring and little fingers most commonly affected. These cords may be mistaken for tendons, but they actually lie between the skin and the tendons. These cords cause bending or contractures of the fingers. In many cases, both hands are affected, although the degree of involvement may vary.
This Disease usually runs in families. It is not painful just annoying. For me I also have it on the bottom of my foot which is rare. If it is rare then I would get it. HA HA!
On top of all of that the Doctor informs me that I have arthritis, bone spurs and calcium deposit in my wrist. OK? So, can we just cut it off and start all over again with whole new body part. Oh, heck lets just change this exchange this body in for a New one. As hubby put it - It's time for Dry Dock!

Well, I could just throw in the towel and just give up but, why? I'm only 52 yrs YOUNG! And I still got a lot of living to do as the song goes. And that is exactly what I am going to do!
There is a simple surgery but, there is a probability it will come back. I will cross that bridge when it comes around. In life there are so many ups and downs and twists and turns. If we allow them to stop us from doing what we want we will miss out on so much. For me this is just a New journey to a new chapter in my life and my weight lose life. Each day to me is a New beginning that is so worth waking up to and seeing. I love taking Photos and capturing the beauty that I see through my eyes and I hope one day to share with others. For now, I hope that this blog can help just one person know that no matter what your health problem is YOU CAN DO THIS! YOU HAVE THE POWER WITH IN YOU! AND THOUGH SPARK PEOPLE!
Thank You to all of you and your Support!