Saturday, June 02, 2012
Weight varies everyday. I know that even though I worked my butt of on the treadmill and ate a little better than before, that my weight would still vary. But I wanted to see if the general direction is going down. So I started weighing myself every morning, after going to the restroom, sans clothes. I entered them in to a line chart format to see. I did both a weekly line graph as well as a continuous graph. This is the continuous one below.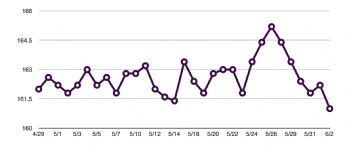 As you can see, my highest weight was just last week, and my lowest weight was today (just a week after). This is a good reminder that weight is relative, in the small scale at least. Hopefully within the next two weeks I can say I got down to the 150's (only 2 pounds to really lose).
So, needless to say I am super excited to be so close to breaking that goal. And I think I might have broken that plateau. If so, I was right, that all I needed was the clinical dose of Metformin.
So today I am really eating right, and I will tomorrow too! So far I have been doing well with my salad (or equivalent). I basically just need to start eating veggies again.
Well that's it for today. I am debating whether or not to do a 10 minute upper body ST video today. I did skip Tuesday so I might be wise to do something like that.
Well everyone have a good weekend! Keep Sparking!
~Misha~