I'm finally getting around to posting some of the pics from Lyndaloves2hike's visit last weekend. We had a few days and packed a lot into it. We hiked a little on several different trails and saw some historic sites and drove through the forest in different directions and talked a lot. I thought I'd start with some pictures from the Gila Cliff Dwellings we visited last Sunday. The Cliff Dwellings are the remains of homes made in caves in the side of cliffs that were caused by volcanic activity a very long time ago. The Mogollon people lived in the caves from 1275 to 1300 AD.
There is a trail that climbs up to the dwellings. A forest fire a couple of years ago threatened the dwellings but firefighters worked very hard to preserve them and did an excellent job of protecting them. When you're up there you can see how very close the fire came to the dwellings. Not sure how well it shows up in the pictures though.
There is a bridge on a path that leads up to the dwellings that is over one fork of the Gila River. There is a trail that goes back into the wilderness area from the parking lot that is currently closed, and has been for over a week, due to the Whitewater-Baldy fire burning in the wilderness area.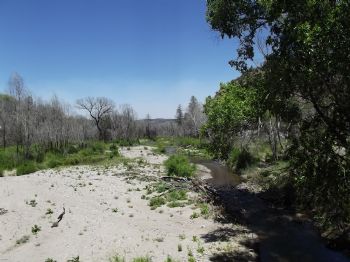 This is where we will be climbing up to.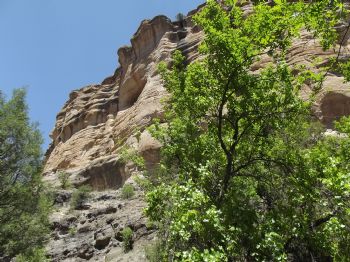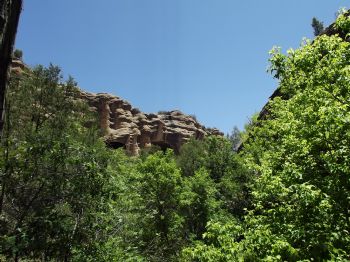 The trail crosses a little creek and climbs fairly slowly up for a little bit then gets more intense close to the caves. Lynda was walking ahead of me taking pictures. We had to leave her little dog Princess down in the kennels at the site office because dogs aren't allowed up here.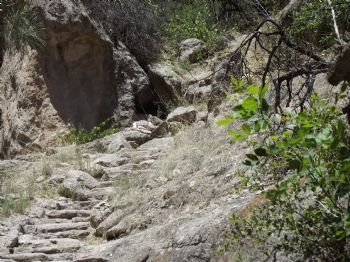 A picture we got someone to take of me and Lynda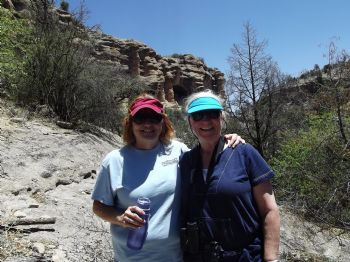 This is right across the canyon from us and up on the top are some of the burnt trees from the fire a couple of years ago.
Here are some caves we can't go into, followed by some we can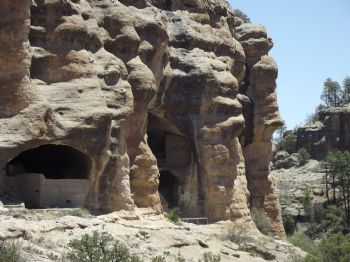 Because it was a holiday weekend it was pretty busy compared to usual.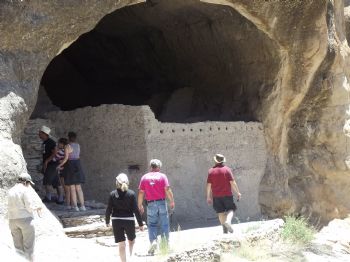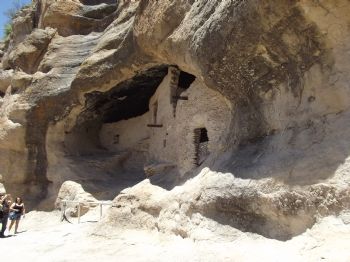 Inside the dwellings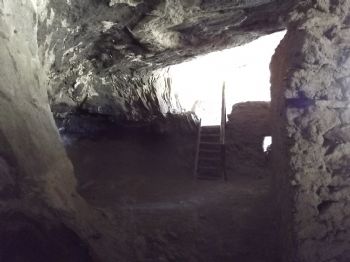 This was a little door into another room inside of a cave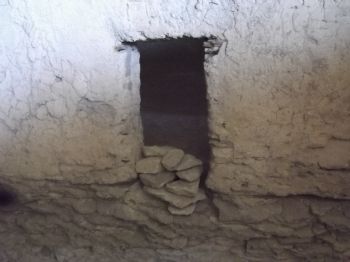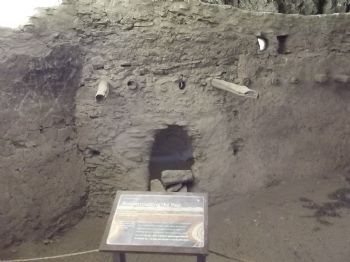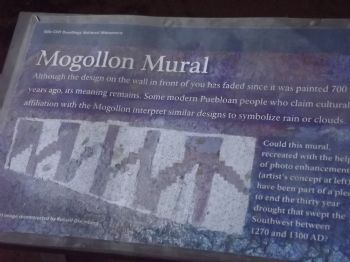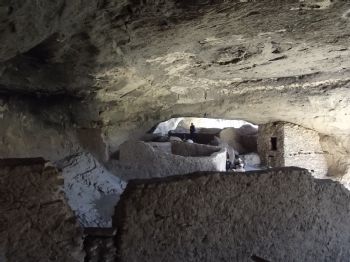 It's a long way down the side of the cliff with a ledge that isn't very wide. I always wonder how they kept the kids safe in those days.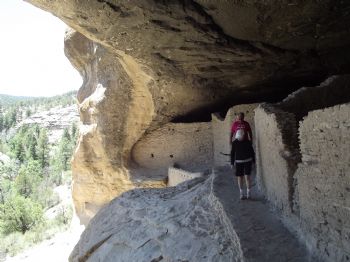 The trail circles around to go back down to the campground around a little of the side of the cliff. Here the fire a few years ago burned.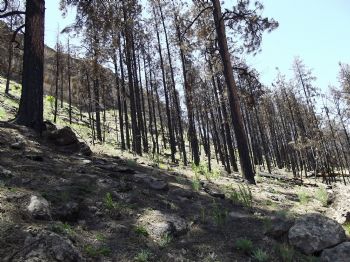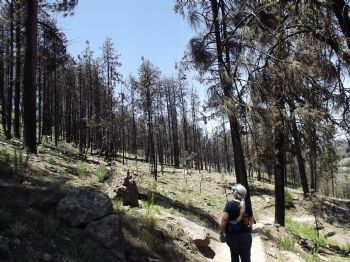 There was another little site down the road by a campground that had some markings from the past on them we stopped to look at also.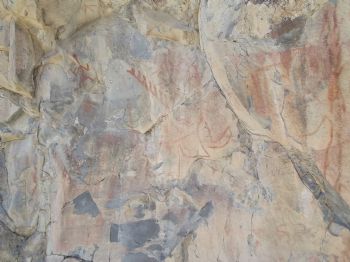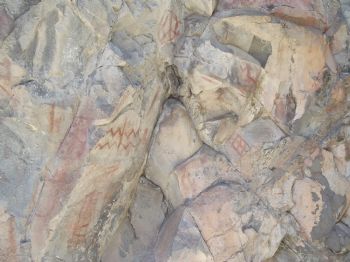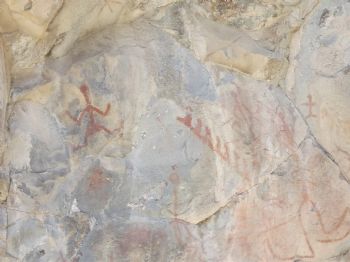 Those we didn't have to climb to. They were by a picnic ground where we ate out lunch.
I chose this area to post the first blog about because Thursday this area was closed due to the heavy concentration of smoke from the Whitewater-Baldy wildfire now. Last Sunday the smoke had been blowing the other direction. I'm not sure just how many miles the fire is from the area, as the crow flies, but it' not a lot. It's currently the largest wildfire in New Mexico history now, and as of this morning it was up to 216,600 acres, which was 20,000 more than yesterday. High winds, extremely rocky canyons in some of the areas, and humidy in the single digits has made fighting it hard. It is now 10% contained according to this morning's news. It's caused evacuations and threatened the little ghost town of Mogollon, NM which is a neat historic site and there are a few people who still live there. The Cliff Dwellings and the fire are all in Catron county. The only way into the Cliff Dwellngs though is to go through Grant County to get up to this little corner of Catron county as there is no direct access from other points in Catron County.
We were so very lucky to have been able to visit this site last weekend before the smoke forced it's closure. Another area I had wanted to take Lynda to was the Catwalk picnic area and hiking trail at Glenwood and to Mogollon when we first started talking about her trip out here a couple of months ago. The Catwalk is also closed due to the smoke and the evacuees from Mogollon are staying in Glenwood and have been since last Monday. But I knew last week that there would probably be too much smoke anyway to enjoy the area even before the fire worsened and it was closed. So that will be saved for another trip. Lynda said her husband is now very interested in coming with her for another trip out here to see some of the area.
We did so much more. On the way back from here we went to Lake Roberts and drove through the MImbres Valley area as we circled back to town on our day trip but this is long enough for now LOL!
Have to post a picture of her little dog Princess though, who I fell in love with and who hiked with us everywhere she could and who I spoiled every chance I got! In this picture she had just finished shaking herself and her tail is still kind of flying around and doesn't look like that all the time.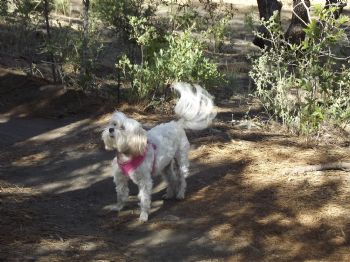 We're getting a lot of smoke over Silver City now too the past few days as the winds have shifted and is blowing smoke south instead of north like last weekend. The whole state is having problems with smoke though. Not good for outdoor activities now.