We took a ride up to Levisham.
The little station on the restored North Yorkshire Moors Railway is a delight.
You're transported back in time to the age of steam trains and Victorian elegance.
Such nostalgia!
When I was a child my brother, sister and me used to sit or stand on an old drystone wall near the end of our garden and watch the steam trains pass.
We knew all the timetables and even which train it was going to be...they all had names and numbers and my brother knew them off by heart.
We knew all the engine drivers and the firemen with their blackened faces who waved and called to us and sometimes threw us sweets and even chunks of coal for us to take home to our mam.
It was a pastime really train watching, collecting their names and numbers in a little ragged but beloved notebook, writing with a stub of old pencil that dad had given us...it was flat, about an inch wide and an indelible one he used for his work and you had to lick it to make it write, it came out purple then not black like an ordinary pencil...and bragging to friends who hadn't managed to get them.
We'd spend many happy hours just sitting on the garden wall with a bottle of water to share and maybe a stick of rhubarb and an eggcup of sugar to dip it in or, if mam was in a good mood and would take us, actually on the station itself.
We did it with car numbers too, sitting hunched over on the long street kerb outside the front of the house watching for cars which were few and far between in those far off days...lol...so far between we even had a den in the middle of a roundabout...we'd have got run over if we'd tried to play there these days!
Every Wednesday we'd travel by train to town to the weekly market and visit mam's family.
We'd have to be up early and were always dressed in our Sunday best.
It was a good couple of miles to the station which we had to walk. It wasn't so bad going but after a day out the walk back could be tiring. I often ended up giving my little sister a piggy back as she always wanted a carry!
It was easier when my sister was small as mam took the big cream silver cross pram. My sister was in it and my brother sat perched on the handle end...I had to walk and sometimes run to keep up if mam was going a bit too fast. I had to keep hold of the handle too!
We had to load the pram into the guard's van and leave it there while we climbed into a proper carriage.
They were single carriages in those days, no corridors, once you were in that carriage you stayed in that carriage. They seated about eight but we usually managed to get one to ourselves. While mam was supervising the loading of the pram she'd set my brother and me off running down the platform until we found an empty one. We stood in front of it until she came, opened the door and lifted us up the two high wooden steps. She always let the window down a notch or two on the thick leather strap you used to open it.
The carriage seats were covered in a maroon coloured plush velveteen material which prickled the backs of your legs...woebetide if you put you feet up on them, you got a quick slap on the legs!
Some times if the baby was asleep when we got to the station mam put her into the guards van too and we all had to sit in there with the pram, parcels and packages that were travelling who knows where.
We had to find anything we could to sit on...sometimes we were unlucky and sat on the floor but usually it was big square wicker baskets we used often with pigeons inside being transported to the start of a race...they cooed noisily at us through little apertures in the sides.
Awww, lovely memories!
Anyway, Levisham station...
The little pristine station at Levisham was basking in sunshine.
Red, white and blue bunting waving in a gentle breeze as the station was bedecked for the Queen's Diamond Jubilee celebrations this week-end.
An air of expectation pervaded as two trains were due to cross in just a few minutes.
Time stood still.
People waited expectantly.
Children clamoured for ice cream.
And suddenly in the distant you could hear it...
Whooo-ooo!
Whooo-oo!
All eyes turned towards the now audible sound of the train chuffing it's way along the track through the beautiful valley of Newtondale, sending out plumes of whitey-grey steam as it neared the station.
The driver leaned out of his cab as it rounded the gentle curve.
Clang!
The crossing gates shut with a sounding of metal on metal.
The train rounded the bend.
Gave another toot of the whistle and chugged slowly into the station.
The 'Cock of the North'.
Steaming magnificently to a standstill.
Passengers alighting or climbing aboard.
Waving from windows or craning their necks to look up and down the pretty flower bedecked platform.
The dining car, filled to capacity.
Serving a three course gourmet meal as the patrons chugged through the open countryside.
Then another Whooo-oo!
Whooo-ooo!
And a second train slid alongside the first, but going in the opposite direction.
The driver exchanged his bag with the guard who waved his green flag, tooted on his whistle and both trains chugged slowly down their respective tracks.
Wheels clanked as the track lines were moved.
Crossing gates slowly opened.
Steam dissipated in the train's wake.
And silence descended on the little station still sweltering in the hot sun.
We drove slowly home stopping off in the shade of Forge Valley.
We walked the little beck side and saw a family of Canada geese in a sunlit glade by the waterside, they shepherded their young with care.
It was cool under the trees, we sat on an old tree trunk and watched a dipper fishing, diving from his stone into the cold clear water and emerging with a beakful of insects, taking them downstream to where her nest must have been. She kept coming back, it must have been a good fishing spot.
I enjoyed my day, even Forge Valley brought nostalgic thoughts of my dear dad who used to take us there to gather bluebells and we always went as a family on Easter Monday to picnic and roll our hard boiled eggs we'd decorated.
I must be growing old...lol...I'm living in the past!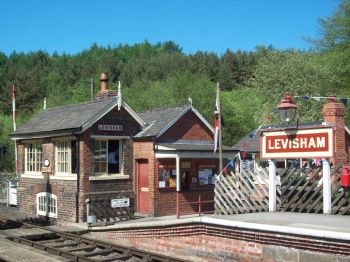 Levisham station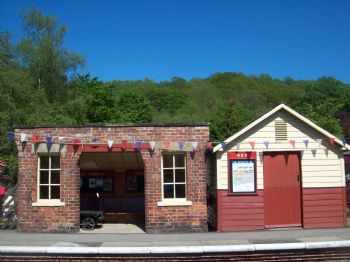 Waiting room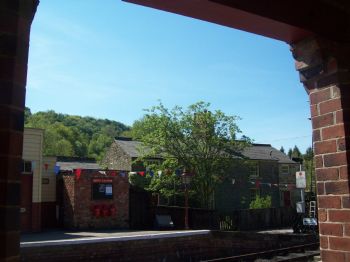 Through the waiting room door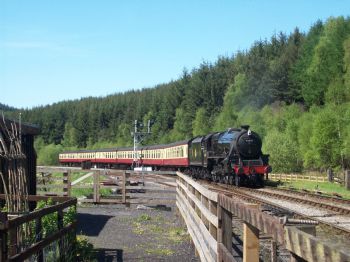 Here it comes...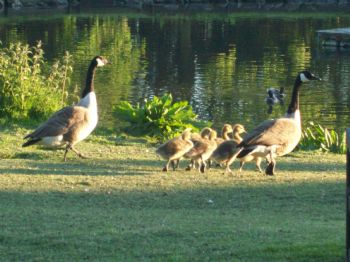 Canada Geese family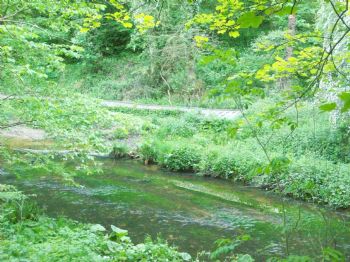 The path by the beck