Second cancelled workout this week (I hate pressing that Delete this Cardio event button!!) but I am crazy sore and stiff. I am going to go soak in a hot, hot bath and then let hot, hot spray pound down on me and hopefully that will help.
I had a riding lesson last night and it did NOT go well. I "graduated" to a new lesson horse named Frank. Frank is an off-track Thoroughbred (meaning he used to race) so he looooves to go and fast. This led me to be so off balance all night (good core work out though!) and on my last exercise things got crazy. This is Frank the Crazy. Who is actually a very good boy despite how I may describe him :)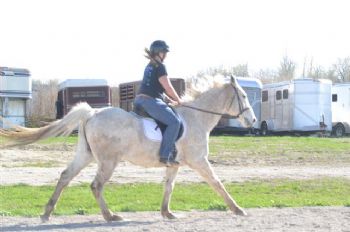 We were going to canter on a lunge line. Cantering is a pretty fast movement and on the lunge line means my trainer had a hold of the horse and we were going to go in a circle around her. As soon as we broke into the canter my stirrup broke. So now I am riding a fast horse with only one stirrup! You're natural reaction is to grip your legs tighter on the horse so you don't fall off, but you know what that does? Causes Frank to go faster!! We eventually got him slowed down, fixed the stirrup and tried again. HAPPENED AGAIN!!
On a side note this is very true. I had been feeling super confident about my last ride with Firestorm until up until Wednesday!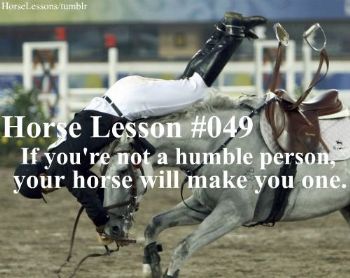 So this morning my legs are stiff and a bit bloody and very bruised. My stirrup had been rubbing funny and then the stress of the broken canter has left my legs looking like this. Yep all those blue circles represent bruises!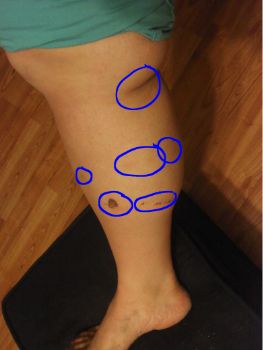 My legs were not good for Zumba tonight. My shoulders are stiff (probably from bad positioning) and my arms are sore from trying to rein my horse in all night. Yikes!
And a nice note, look how pretty my dinner was!
Also I am feeling a bit conflicted. I started reading "The New Rule of Lifting for Women" so I can start some weight training. I am excited to see some changes and really dig into the book, but I am a bit worried. I know lifting wont cause me to bulk up, but I am worried about shedding pounds while lifting. It seems that you don't typically lose a lot of weight but tons of inches! But I don't want to weigh 240 pounds (even if it does look really nice!). I know I need to finish reading, but this is something on my mind currently. How to balance the two.

Also super excited because I got a "500 Fitness Minutes" trophy this month. First one of those ever!! Woo!! Who knows maybe I can get 1000 this month! Wouldn't that be somethin :)