Thursday, May 31, 2012
Wow, this has been anything but a boring or relaxing day. I've been on the move since 5am. I did my sparking before heading to work. Worked at the office til time to attend my granddaughter's Kindergarten graduation. It's so hard to believe she has reached this milestone in her life, but I'm so blessed to be able to share in it, which is why I keep sparking daily. I must take care of me so that I can enjoy more of these special events in the lives of my 5 grandchildren.
Here's a picture I snapped right after the ceremony, isn't she a proud graduate?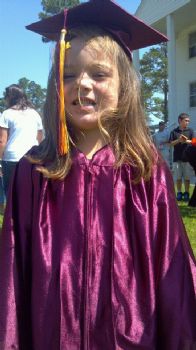 Then back to the office to finish up the remainder of my work day. It wasn't too incredibly crazy, then went home & although it was rather warm @ 91 degrees, thankfully there was a slight breeze making my walk bearable. I got my cardio done.