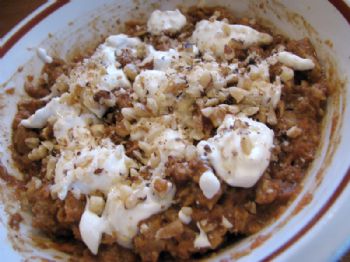 I still have carrot cake in the fridge from the beginning of May. Yeah. I should throw it away. I almost did a couple days ago, but then I felt the cake and it was still soft. I don't know what it is, but apparently I am suddenly so in love with carrot cake that I can't throw it away. I think it's the cream cheese icing. I dislike traditional cakes because the sugary frosting is just gross, but cream cheese is a whole 'nother story.
And it just so happened that I was reading a blog that mentioned "carrot cake oatmeal." WHAT. I had never considered such a thing. I quickly Googled it, found several recipes, and acquired the ingredients.
I sort-of followed the recipe from Oh She Glows, but I eliminated the coconut milk, lemon juice, and maple syrup. I found that the oatmeal was very bland without any sort of sweetener, so I added 15 grams of brown sugar  (much better). For the topping, instead of using coconut milk and maple syrup, or greek yogurt and maple syrup like another recipe called for, I went balls-to-the-wall and used ACTUAL CREAM CHEESE sweetened with sucralose. CRAZY, I KNOW. But I wanted it to taste like *actual cream cheese icing*, and it totally did.
It was f*cking good. And filling — which surprised me, because usually 1/2 cup of oats is not quite satisfactory. It's important not to skimp on the carrots, because they give it most of its flavor (and bulk). Here's my little recipe:
100 grams grated carrot (approx. one carrot)
40 grams oats
1 cup almond milk
.75 tsp cinnamon
1 tsp vanilla extract
15 grams brown sugar
2 tbsp fat free cream cheese
1 packet sucralose
0.2 oz chopped walnuts
Grate the carrot finely. It takes some serious arm power using a grater, which is why I have my eye on a julienne peeler (
amzn.to/NkfkQM
). A food processor would also work.
Heat the milk on the stove over medium heat, then add the oats and carrots. Cook over low/medium heat for 8-9 minutes until it has thickened.
Meanwhile, mix the cream cheese with the sucralose (maybe some water to thin it out, or greek yogurt to bulk it up) and give it a quick microwaving to warm it up.
Remove the oatmeal from the heat and stir in the cinnamon, vanilla, and brown sugar (I have a theory that you can taste the sweetness more if you wait until the end to put these ingredients in).
Top with cream cheese mixture and walnuts. CONSUME.
CALORIES: 372, less if you eliminate the walnuts
----------
Does it taste like carrot cake? Not exactly, but it tastes closer than you'd think oatmeal could.
On a final note, what is it with food bloggers' portions always looking way huge when they are, in fact, not? Do they have special miniature dishes for photographing food?