After having a couple of days of delicious vegan, sugary cupcakes, it set me up for craving more sugar. It was fun, but the spell needs to be broken so since I was home all day I decided to detox [for lack of a better term].
Breakfast was a big smoothie made with bananas, blueberries, lots of chard, a little almond milk, a tbsp. pf almond butter, carob powder and maca. Green smoothies are so good!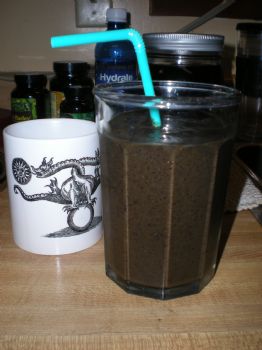 There's a recipe floating around online for "detox salad". Apparently Whole Foods sells a salad like this. Anyway I made it with a few of my own variations. It's delicious and it makes a lot.
It's mostly chopped brocolli and cauliflower, carrots, raisins, lemon juice, sunflower seeds--and I added some red onion and colored peppers.
Lunch was a large serving of the detox salad and a cup of this delicious simple green soup I made with red lentils, chard, onions, salt, and a little lemon zest. And I had some nettle tea that I had throughout the day.
And I'm craving bananas these days--I could've eaten 3 of these. I know we've all seen bananas before but I had to take a picture of this yellow speckled beauty!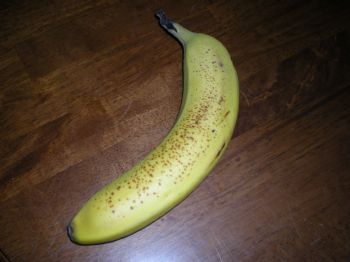 Another snack I had: cucumber slices, brown rice/multigrain crackers, and horseradish humuus.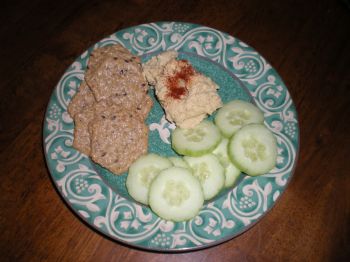 Dinner was a dish of kiwi, mangoes and blueberries, and a slice of dense rye bread w/ avocado and homemade tempeh bacon. I love this combination!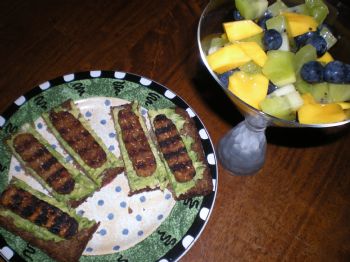 My food today was very satisfying, not once did I crave sugar!