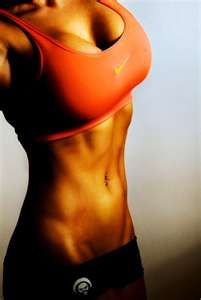 So I read this article (link is below) and the first thing I said was, "Why didn't I write this?!"
For those of you who hate it when someone starts a blog only to give you a link to another blog, I'll put together a real nice summary for ya.
What I found very unique about this article was her approach. Instead of doing what most "body image" advocates do which is scream about those skinny runway models and their dang hip bones, she points her finger at the Fitness Industry. Yep. I'm talking about the very industry that we all love because it's about "health," right? The mags and workout videos, etc, that want us to believe (subconciously, of course) that to be REALLY healthy, we would be "tight," "toned," "lean," and "sexy."
Just ask Equinox Fitness. They objectify women all over the place...all in the name of "Fitness" and "Health." Sex sells, doesn't it?
I read this article as a mother of two children who's staying on top of what my kids are seeing. Do I want my 10-year-old daughter going on a diet because she's "told" in pictures how she should look? Do I want my son to grow up and seek out only women who look like the pictures in the magazines? Or do I want my children to see themselves as great people ---with great potential to change the world, regardless of what the mirror says? Because dieting all your life and looking for the "perfect woman" is like living in a prison.
One of my favorite quotes from the article is "Our bodies are not prisons – they are gifts that allow us to live and breathe and act and do and be."
Oh, for goodness sake...just go read it.
But don't mind the headless fitness model in the pic. The advertisers here want you to think only about her body. She doesn't need a head because (according to the ad) a woman with a head means she has a brain. And a woman doesn't need a brain to be "Fit" or be a REAL woman. All she needs is a nice rack and a six pack.
www.beautyredefined.net/
why-fitspiration-isnt-so-i
nspirational/