Tuesday, May 29, 2012
Last week was busy, busy, busy! I think it was a good test of Spark habits - and I did alright. I think I was stress eating lots of sweets and such. On Tuesday and Wednesday I had frozen yogurt for dinner and even worse, I had 3 doughnuts for dinner on Thursday. Yikes! It's what I was in the mood for and what was easily accessible and it didn't put me over my calories by too much. Although it isn't really the nutrient dense food my body deserves. Then Friday we went out for sushi and then ice cream after. That absolutely put me over my calories!! I was smart though and made myself throw it away once I was full even though it was the most delicious turtle sundae. My favorite!!
I don't think it's a good idea to have dessert or sweets for meals often, but if you must satisfy a craving, why not replace a meal with it instead of tack in on to the rest of your day's calories? Just my opinion. I did better calorie-wise Tuesday, Wednesday, Thursday than on Friday.
I didn't do a whole lot of actual exercise last week. I think the last time I formally exercised was Tuesday when I met some Spark friends for a walk. The rest of the week I was using workout time to prepare for our pig roast on Saturday! We had quite a spread. I was busy enough that I didn't go crazy with eating. We used a Rick Bayless recipe for the roast. I love Mexican food and we had some tasty condiments and sides!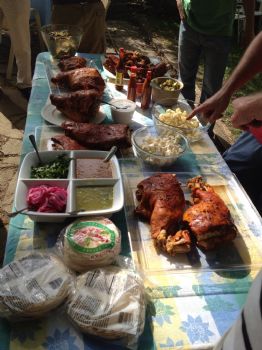 Last week I also had a pottery sale, interviewed to keep my job, got all of my ducks in a row with a consulting firm with whom I am going to do a little bit of extra work on the side, worked on the weekend, and attended more Memorial Day festivities. It feels like a blur! I do think being busy is a good thing though. Now sitting around watching TV or playing on the computer for too long feels wrong. Last night I went through a bunch of old clothes that I thought I would be throwing away - happily they all fit me again! I am going through to pick out pieces I know I won't wear anymore to donate. I am getting things together for the cruise we are going on in less than two weeks now! So excited!