"Do not store up for yourselves treasures on earth, where moth and rust destroy, and where thieves break in and steal. But store up for yourselves treasures in heaven, where moth and rust do not destroy, and where thieves do not break in and steal. For where your treasure is, there your heart will be also.
Matthew 6:19-21
****************************
**
Today was the second full day of clearing out some of those earthly treasures. I'm exhausted as today was the largest portion of actually hauling stuff out of the house as we tackled the storage room. Many of those boxes/totes had been there for 20+ years and remained untouched other than to move one occasionally to another spot.
Here's a shot of the office which is just outside the storage room.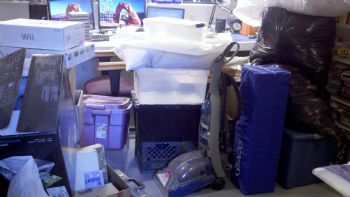 And one of the living room.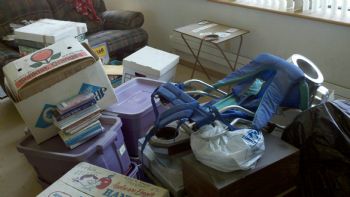 We had made several piles. One for trying to sell on Craigslist, another for donating to a local thrift store, and the largest of all...to haul to the dump. Those are definitely reflected in the photos above.
After a trip to the thrift store we grabbed some lunch at Wendy's before dropping off some books and puzzles at the assisted living place where my dad lives. Then it was home to get stuff into the garage so we could get our rooms back. We couldn't put the throw away in the bed of the truck for the dump as Tim still needed to empty the poultry feed (over 1,000 pounds) so he eventually worked on that while I worked on clearing some shelves (homeschool stuff) as we decided to move the schoolroom into the storage room. Yes, there will still be a few containers in there, but it's going to be fine once we get florescent lighting in and the whiteboard hung on the wall. Kids were SO excited about that project and dug in and helped me. Isaac enjoys that he can hear when a toilet flushes due to the septic pipes on the wall that run into our septic tank. Leave it to a boy! LOL
Here's what the storage room/schoolroom looks like as of tonight even though there is still work to be done.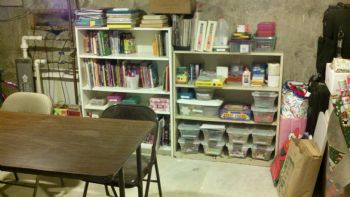 This photo has my little corner where I'll have a small desk eventually. That wall will also house the whiteboard. I enjoyed pulling all the school stuff off my desk in the office and putting them on a bookshelf! I now have extra space (or I will once I clean it off) for my scrapbooking projects that won't have to get cleaned up as school won't be happening on that desk anymore! It's the little things sometimes!
So, we are now free of many material possessions and it feels wonderful. Still have the kitchen, linen closet and our bedroom to go!