I ran today when I got home from work. It was hot, and Lil'G was at my mom's. DH gets home later, so I had the time.
I warmed up, stretched, put on my HRM and ran. I have a route on my little street that keeps me off the slanted shoulder of the highways. The highway is busy with all the Americans coming up to their cottages for the memorial weekend. My route [I thought] was 5K. I recently discovered when I mapped it out on spark's route page, that it's more like 4.59K. but that's OK, too.
My route needs to be completed 2 times for it to be 4.59km. I run the road, turn right, up the hill to the cul de sac, down the hill, staying right and run to the end of the road. Then I turn around and run back to my side of the loop, bypassing the cul de sac on the way back. If I do this twice, I get close to 5K.
I'll show you what I mean...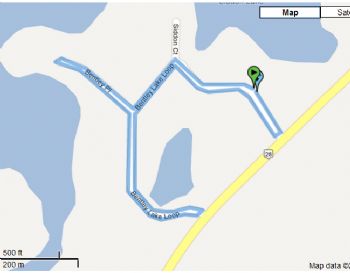 I ran down the road, up the hill, around the cul de sac, down the hill, down the other side of the loop, out to the road and part of the way back (to the straight part), where I had to walk a bit. My HR was really high, but my breathing rhythm was OK. Then it was walk-run-walk-run repeat...
I ran the whole thing, 2 times through in 36 minutes, which I'm told is pretty good.
Now, don't yell at me, but I wore my last generation shoes (my newest ones are more for cross training, not running), and I experimented with different foot strikes while running.
and for foods today: I mentioned yesterday that I was giving up added sugars again and I already slipped. I had ketchup on my fries tonight. Not a lot of fries and only a tbsp of ketchup. But boo :( I was so enjoying the sweetness and reveling in it, when I realized...ketchup=sugar.
but listen to the rest of my day.
Breakfast: branflakes (I like the taste) with 1% milk and cinnamon
Lunch: grilled chicken breast, apple, 1/3 orange bell pepper, carrots
Dinner: pork chop, oven roasted green beans, a forkful of rice (gave the rest to LilG so he could 'swallow" his pork LOL), some fries....KETCHUP!!!
Dessert: a pint of sliced strawberries...YUM!
that's it, folks.
I've been drinking water and have iced my shins and stretched my legs like crazy after my run, so I'm hoping tomorrow will be kind to me.
the best was when I ran, no music. just me. breathing and footfalls. and the zipping of the dragonflies. There were so many of them. Which is great where I live, because they eat all the bloodsucking flies that would have been after my blood. The dragons fly while I run. I felt that they were racing me, which was funny, since I wasn't going very fast. LOL