Wednesday, May 23, 2012
I have had a couple of stressful situation come against me in the past few weeks, but yet I stayed positive. I was doing so well, I wasn't stressing or overthinking. I got sick & that went all the way into Mother's day, but I still tried to stay focused. Now I will say, that threw me off. However; I was still THINKING about exercising & being productive. I dragged myself to my babies school for their reading presentation to me-still super sick, but that's what mom's are supposed to do. Well I got over that & the next obstacle comes along. It wasn't too challenging, but it was one I that was somewhat the root of my problems. I didn't dwell on it or freak out, I dealt with it & tried to move on. Notice I said TRIED. Well I was still watching what I was eating but I wasn't exercising everyday like I had been or when I did it wasn't for 60 min. Now I know any movement is better than none so I would at least do my strength training on my scheduled days. But I was feeling like I wasn't being myself.
Better half comes home from work & is home for a few days & he encourages me to get my workouts in. I do & I felt soo much better. I even posted a status update about it. I am so much more productive when he is home for several reasons, but when he leaves sometimes I tend to fall apart. Lately though I haven't been & me not letting my fears or worries get in my way have gotten me to this: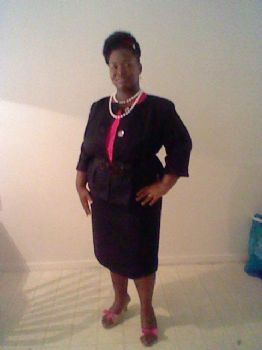 and this:
My confidence in myself is coming back around & it shows. Sunday morning I didn't feel like dealing with the car so my family & got dressed & walked to church. Its only about 7-10 minutes away. But I was feeling blessed & ready to start my week off right. Renew my spirit, don't sweat the small stuff such as the car, & keep it moving!! Monday comes along & there was a phone call I had to make that I knew may not turn out well. This is an issue that I had been dealing with for over a month now & it was starting to cause me grief because the results of it would affect my family. I prayed about it, talked it out, called my fiance' & he gave me encouraging words. Then comes the phone call. I got the results that I needed, but the conversation didn't go so well. I tried to shake back from it, but that wasn't working out too well for me. Now its like all the things I have been trying to push aside & or jump over are coming back to throw me off. My fiance' works 70 miles away. He has two jobs & they are both demanding at times. For the past year this is how it has been. He has to live at his jobs most of the time & comes home for maybe a day or two or sometimes none. I often think of him as being deployed. He is only 70mi away but that turns into days & at times weeks. He doesn't like it & I absolutely despise it. It all to provide for our family & still not have enough at times. We are putting our heads together to come up with a better solution, but sometimes other things just get in the way. We both get discouraged & feel like we are doing things alone. We have to constantly remind each other that we are not in this by ourselves. But if one of us isn't on board than that effects both of us. Whether he knows it or not, I feed off his motivation & I know he does mine. When I start slacking, it shows & I feel like Im letting us both down. So I had noticed that last week I only put in work twice with some weights on a few days & so far this week I haven't worked out any. I also noticed that I was just eating anything, but I was aware of what I was eating & I would follow it with healthier choices or slack off. My point is, I was still aware of what I was doing.
I'm blogging right now because I feel myself regressing. I don't see any negative results with my progress yet, but I know if I don't get back on the good foot & get out of this slump-the madness will begin. What I have realized in this time too is that when I am feeling lonely or stressed, I turn to the foolish ways. I am feeling super lonely this week because I won't be seeing my love for about 7 days. I still have to deal with this car & my babies are all out of school so I will have to find ways to keep them occupied other than video games, tv, & reading all day. I know it may not seem like much to some. Other have deeper problems. But these are my insecurities & things that cause my anxieties to come out & also cause me to overreact to them. I'm trying to stop the cycle now. I won't go back, but I guess know that I'm heading down the wrong path is a start. It gives me a way to rethink some things & figure out how to get back moving in the positive direction before it is too late. I can do this, things were going so well!!! I've got to get back there ASAP. I guess Im just missing this right now